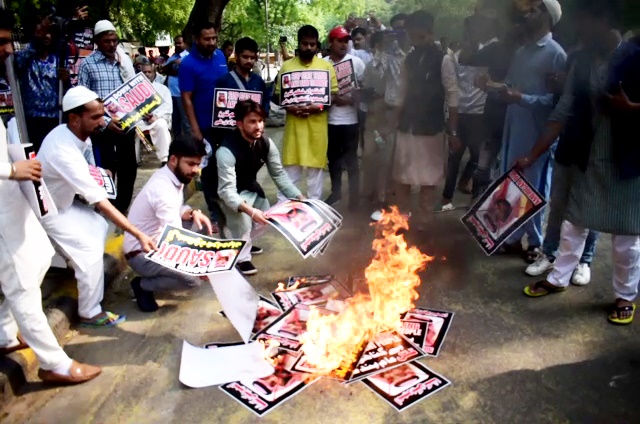 Protest organised by Majlis-E-Ulama-E-Hind against 37 Shia People Brutally Killed in Saudi Last Month!
Vishal Malhotra (Photo-Video) Lokesh Goswami Tennews New Delhi :
New Delhi : Saudi Arabia on 23rd April beheaded 37 of its own citizens, most of them minority Shias, in a mass execution across the country for alleged terrorism-related crimes. 
Police also publicly pinned the executed body and severed head of a convict to a pole which they say was a warning to others.
The executions are likely to further stoke regional and sectarian tensions between ultraconservative Sunnis Saudi Arabia and Shia Iran.
Saudi dissident Ali al Ahmed, who runs the Gulf Institute in Washington, identified 34 of those executed as Shias based on the names announced by the Interior Ministry.
"This is the largest mass execution of Shias in the kingdom's history," he said.
Today, hundreds of people in support of these Shia Community People gathered at Jantar Mantar and demanded justice for them.
Speaking to Ten News, General Secretary of Majlis-E-Ulama-E-Hind, Abid Abbas said,
"This is not the murder of people but the murder of humanity and we the people of India are all in the support of justice for those who were brutally killed in Saudi. We have demanded government to provide some help to the family members of those who were killed and we won't stop till the people of Saudi who killed these 37 people are made to pay for their doings."