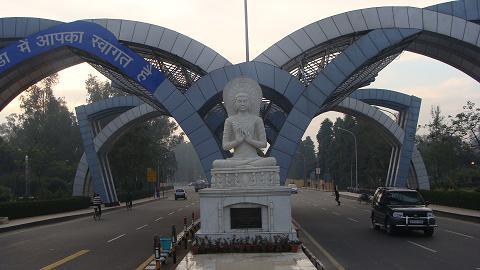 Public Participation in Government Schemes' Implementation in GBN and Noida
Col P Chandra (Retd)
Both State and Central Government lay out comprehensive plans for development of rural and urban
India. Focusing on the implementation of government schemes in rural areas, Prime Minister Modi had
mentioned that all the planned development work should be completed in a set time and it must be
ensured that that there is no diversion or dilution. The Prime Minister had also mentioned the
following:-
(i) The work should be outcome-based and not output-based.
(ii) The work should not be measured by the amount of budget invested on it, but by the results
it has produced.
(iii) PM mentioned that the nation doesn't lack the resources. What we lack good governance.
Development is visible in states that practice good governance.
PM also mentioned that democracy can only be successful if there's public participation. There should
be a two-way channel of communication, where guidelines can flow from above and correct information
can be communicated from below by the citizens for whom the schemes are meant.
Discussion Forums for People Participation in Decision Making for Good Governance in Rurban Noida
Prime Minister Modi believes that success of democracy is not possible without participation of the
people. Based on the philosophy of Indian Government I recommend the following for urban and rural
parts of Noida:-
(i) Citizen's participation in conceptualizing and implementation of various government
schemes should be one of the important components of decision making. Only then it will
be possible to achieve the aim of "Good Governance".
(ii) State Government and Noida Authority should set up Discussion Forums. The Discussion
Forums can be on topics like Pollution, Water Management, Issues Related to Industry,
Green Noida, Solid Waste Management (Swatchch Noida), Traffic Management, Law &
Order, Job Creation, Builder-Buyer Issues, Girl Child Education, Skill Development etc.
(iii) People can then be invited to join Discussion Forum which they like. Any one person should
be allowed to join maximum two such forums. A person can join a forum as "Discuss
Option" or as "Do Option".
(iv) The objective of each Discussion Forum will be to bring about a qualitative change in that
particular sphere through people's constructive suggestion and participation.
(v) Any citizen should be able to give his/her suggestion and feedback on these Discussion
Forums. There should be a system which allows constructive feedback
(vi) People from all walks of life should participate in this Discuss and Do philosophy. There
should be multiple theme based discussions. These discussions and suggestions should be
reviewed by a Team of Experts. This team should consist of experts drawn from citizens and
from various government agencies.
(vii) This Team of Experts should finally clear various schemes for implementation as Onground
Tasks. This way we will be able to identify talent and expertise from within and outside
government. This human resource can then be deployed towards the success of projects
with people's participation
(viii) There will be large number of citizens who will be ready to go beyond discussion. These
people will be ready to come forward and volunteer to be part of implementation of various
schemes. Such volunteers should be screened for their skill and competence level. If found
suitable they should be allowed to contribute on ground by being part of implementation
team.
Present and Future of Noida
Gautam Budh Nagar is a combination of Rural and Urban Clusters. Its development has been patchy.
Even rural areas today aspire to have all the facilities available in urban areas. There is an unplanned
race towards becoming a Smart City. Time has come to discuss about what we want from our city. Do
we want a Smart City or SENSEable City?
We talk a lot about Smart Cities. But we not discuss the concept of SENSEable City. Department o Urban
Studies and Planning of MIT has initiated a study to find out how digital technology can be used to
design, build and occupy our cities. One o the important features of this study is citizen's participation.
Digital Systems and IoT (Internet of Things) have already started changing the lives of urban citizens.
There is too much focus on technology when we discuss Smart Cities. A city like Noida is full of digital
and business nomads. They are here to earn a livelihood. In the process of earning a livelihood lot of
traffic and lots of garbage is generated. These are two very visible side effects of industrial progress in
Noida. The digital and business nomads have very little time or inclination to learn about the city. And
they have no time at all to participate in order to transform Noida from a budding Smart City to a
SENSEable City.
Smart City Vs SENSEable City
All of us have heard about Smart Cities. But a concept is now developing about what has been termed as
"SENSEable City". A SENSEable City has following characteristics:-
(i) It is sensible in design of the cities. It caters to its current and future civic needs.
(ii) It also puts emphasis on human side and not only on technology. Presently for Noida, we
have neither harnessed technology for benefit of the city nor do we have long term action
plan which emphasizes on human side of its various issues. If there is long term action plan
it should be known to the citizens, before these plans are implemented.
(iii) A SENSEable City is a convergence of digital and physical world, with focus on human side.
(iv) A SENSEable City creates an ecosystem where citizens can develop systems and processes to
transform their city. It is participatory in nature.
(v) It allows people to develop solutions to their civic problems.
(vi) The design of the city is such that it blends IoT with the layout and facilities of the city, for
benefit of its citizens.
It is a good idea to let people participate in local governance. The citizens should remain engaged with
their immediate environment, especially with municipal services needs of the city including traffic
issues. Citizens also can think about their problems and find the best way out to resolve them. This will
also encourage a rich innovation ecosystem.
Conclusion
Stated policy of Government of India lays great stress on citizen participation in decision making and
participation in execution of projects meant for the citizens. But on ground this policy is yet to be
implemented in true spirit. Currently (and in fact perpetually) our bureaucracy is risk averse and has a
rigid top down approach.
But now is the time for quick decisions and fast actions. Otherwise we will always be catching up.
Without citizen's active participation Noida will never be able to get rid of its various problems.
Governments will come and go but the dream of Smart City will remain a dream, forever.