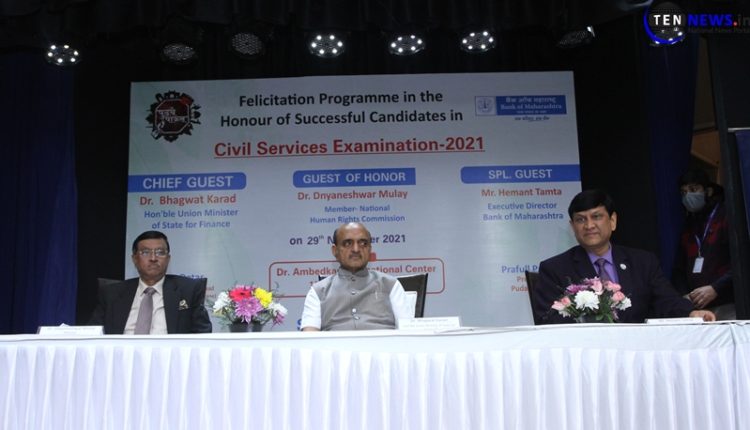 New Delhi (30/1121): Pudhache Paul – Bank of Maharashtra on Monday 29th November organised a felicitation Programme in the Honour of Successful Candidates in Civil Services Examination 2021.
The event was graced by Dr Bhagwat Karad, Union MOS Finance, who participated as the Chief Guest for the evening.
Dr Dnyaneshwar Mulay, Member NHRC was the special guest for the function. Hemant Tamta, ED, Bank Of Maharashtra also participated as the special guest and addressed the gathering about various initiatives of the bank.
Union Minister of State for Finance Dr Bhagwat Karad in his address to successful officers said that after coming in Delhi, he was exploring organisations and people from Maharashtra in Delhi at that time he heard the name of Dr Mulay. He got to know that Dr Mulay greatly helps the students from Maharashtra. Minister further added that he has decided to do something for the students coming from Maharashtra and would like to make little efforts so that these student can get jobs as government officers. Minister also assured to provide support to the guest house/hostel project of "Pudhache Paul" NGO patronised by Dr Mulay for Maharashtrian aspiring students through CSR funds.
Minister recalled late Prime Minister Atal Bihari Vajpayee's Hindi poem "Mujhe Itni Uchai Kabhi Mat Dena, Gairon ko Gale Na Laga Saku". Minister advised to all those students who are now officers to always try to inspire others and help your society and your peoples to make officer like you , grow like you .
Dr Karad also showered praise on Bank of Maharashtra Management for good and efficient network of branches all over India including in NE States.
IFS (Retd.) and Passport Man of India , Dr Dnyaneshwar Mulay, Member, National Human Rights Commission ,said, "Over 10 lakh people apply for civil services every year. Out of it, only about thousand people are selected for different services. Only 50 to 100 aspirants become IAS officers. And it is a proud moment for the entire Maharashtra state that this year 70 candidates have been selected for the coveted services."
Talking about how this change has gradually happened in the bureaucratic circles, Mulay added, "When I had joined the civil services, there were hardly any representation from Maharastra. In the corridors of power, I would hardly find any Marathi officer. Being a state that contributes so much traditionally, culturally and financially, the representation was required to be improved. And I'm very delighted that gradually it has happened on the ground through the efforts of Pudhache Paul NGO.
Hemant Tamta, Executive Director, Bank Of Maharashtra, said, "Bank of Maharashtra is not only confined to profit banking but is a social bank. We have vision that no one should remain outside of banking purview. We have been conducting outreach programmes in all the districts. Banking sector is not only creating employment but also generating employment."
"We have conducted camps and created an atmosphere of financial literacy. Due to initiative such as Jan Dhan Yojana, banks have truly become a common man bank. Through banking services, now common people are being empowered. Bank of Maharashtra is a public sector bank with efficiency of private sector services," he further added. Mr Tamta appreciated valuable support of the MoS Finance Dr Karad in all BoM initiatives .
Addressing the gathering, General Manager , Delhi of Bank of Maharashtra Chitra Datar, said, "Bank of Maharashtra has almost achieved 3 lakh crore business, which has helped to improve economic sentiment. It has been a performer in various key parameters and stood No.1 in various parameters among PSBs.
She further informed that exclusive Govt.Business Cell was opened in Delhi to focus on govt.business and having good IT integration and has implemented PFMS also . Bank has successfully opened many govt.accounts in Maharashtra and other states.
Talking about her start of career in Banking, she added that as she was working in a rural branch and used to travel 50 kms.on cycle to and fro branch, so rural people used to ask small favours related to their banking needs and thus they used to call her as "cyclewali Bank" .
Program was graced by NGO Pudhache Paul NGO Technocrat Prafulla Pathak, IAS Officers Anand Patil, Vishwas Sakpal, Nitin Yeola amongst others. Madha Lok Sabha M.P. Ranjeet Singh Naik Nimbalkar, Pandharpur M.L.A. Samadhan Avatade, Principal Chief Commissiner of Income Tax Sadhana Shankar, Gajanan Mali from M/o Housing and Urban Affairs also graced the occasion along with other key dignitaries.
Bank of Maharashtra | Honour of Successful Candidates in Civil Services Examination 2021 | Photo Highlights