By Bipin Sharma
'Respect Age International' (RAI) organized its 54th Annual Felicitation and Award Ceremony at the India International Centre, Lodi Road on 15th October' 2016. The prestigious RAI International Award of Excellence 2016 were presented to achievers in different categories. The other key highlights of the event were some brilliant thought provoking speeches by distinguished speakers and personalities during the course of the event.
As one of the country's oldest and most revered society dedicated for the cause of senior citizen's, RAI has been indefatigably working towards spreading the message of respect, dignity, service, healthcare and security of senior citizens worldwide. Their key focus area has been on educating youth for human and spiritual values to take care of their parents and grandparents, grooming their personality and empowering them with skill development, advocating unity of senior citizens for their strength and voice, and so on.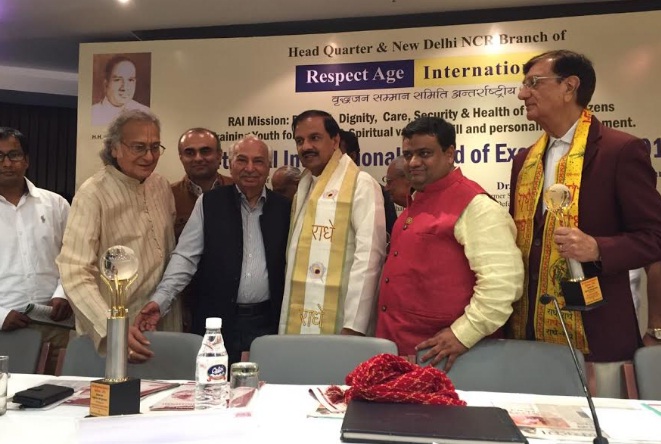 The chief guest of the event was Dr Mahesh Sharma, Minister of State of Tourism and Culture (Independent Charge) and the Guests of Honour were H.E. Jagdishwar Goburdhan (High Commissioner of Mauritius) and Dr Yogender Narain (Former Defence Secretary, Govt of India).
Distinguished Guests of the program were Dayanand Vats (Noted educationist and media personality) and Author Bansi Dhameja (Social reformer and thinker) who were duly felicitated and honored by the distinguished personalities.
The 2016 Vashundara Ratan awardees included Padam Vibhushan Sonal Mansingh, Dr Ram Boojh, RN Grover, Dr OP Gupta, Padam Vibhushan Prof Yashpal, Prof Dr Pushpa Khanna DJ, Prof RP Dhokalia, Ram Niwas Jaju and Padam Shri Swami Ram Swaroop Sharma. Kiran Chopra and Anthony Raju were felicitated under the non senior citizens category. Barring exceptions, most of the awardees were present on the occasion to receive their award, and share their valuable thoughts with the guests.


Author Bansi Dhameja presented a copy of his book "Mann Ke Moti" to Dr Mahesh Sharma, and shared few significant features of the same with the Minister.
Speaking on the occasion, Dr Mahesh Sharma lauded the painstaking efforts of RAI, and urged them to inspire others so that the cause of senior citizens is aptly addressed. The Minister expressed great pride in stating how India stands apart from other nations in terms of adhering to age old values, traditions, customs and respect for elders. "Senior citizens are the backbone of any society, and thus deserve to be accorded due reverence and care in the world. It is agonizing when we see youngsters ill treating their elders. On a comparative note, India is way ahead of other nations in the context of their behavior and attitude towards elders. Respecting our elders, especially senior citizens is of paramount importance, as it happens to play a key role in nation building and character building at some stage or the other", asserted Dr Mahesh Sharma.
In his brief speech, Girish C. Gupta, Secretary General, RAI shared, "RAI has been playing a pivotal role in ensuring a dignified life for the senior citizens and the elderly. A social organization, RAI was founded in 1962 by Babu Hari Kishan Gupta of Agra in both India and abroad. RAI is associated with American Association of Retired Persons (AARP) U.S.A., International Federation on Ageing (IFA) Canada and other National and International Organization. Due to the passionate efforts of RAI, Agra chapter, senior citizens forums all over Agra have been making the optimum use of their leisure time by getting involved in various vibrant, cultural programs and recreational activities. RAI has a MOU with Govt. of Mauritius, for Senior Citizens Exchange program. It is an annual event that was launched some 14 years ago in 2002. We have always been up front and working assiduously to expand the senior citizen's exchange program to other countries as well. To achieve this, regular programs are being arranged in different school and colleges where lectures are organized by eminent persons on the subject. To take care of the ever increasing population of senior citizens, qualified and trained young non-medical persons are needed. RAI has been conducting such training programs and the similar ones for the middle aged, to help them plan their old age in a more organized way. We have been facilitating medical facilities for the senior citizens such as time-to-time medical check-ups. Our headquarter is in Sikandra, Agra which has myriad facilities namely a conference hall, rooms for short stay for senior citizens and families, organizing programs for geriatric care individually and also in collaboration with Ministry of Social justice and Empowerment, Govt. of India, different Universities and Institutions. Financial aid to needy person is provided when RAI finds that a senior citizen is left stranded without any earning or the family assistance. A remarkable attribute has been the organizing of regional, national, international workshops, seminars and meetings from time to time to spread the message of respect and care towards senior citizens.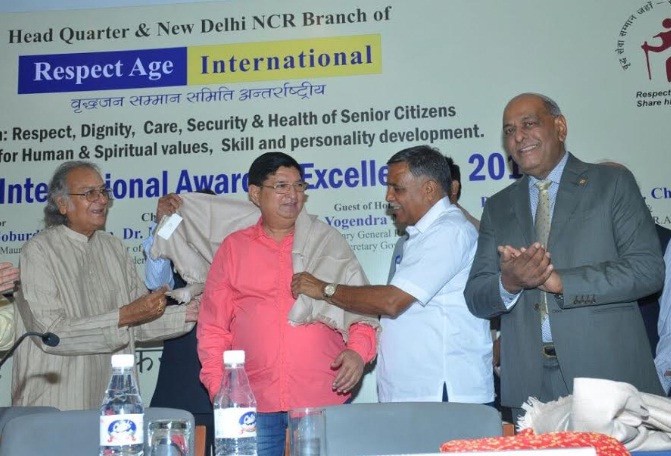 More significantly, for spreading the message of respect and care, senior most citizens have been getting felicitated and honoured on a regular basis since 1962 till date. In this regard, various ceremonies in different countries as well as different states of India, and in Agra have already been organized. Citizens who reach the milestone of 100 years are felicitated in a grand ceremony as a mark of respect and affection towards them. Special plaudits to our working president, V.D Agarwal who has always been a great pillar of support in our endeavour towards overcoming the challenges facing the senior citizens."
Kiran Chopra from Punjab Kesari group congratulated the RAI team for their remarkable contribution in spreading the awareness towards the numerous causes of senior citizens.
Guest of Honour Dayanand Vats hailed the various initiatives undertaken by RAI in the last few years of its existence. He expressed the need for the stalwarts of the country to inspire GenNext towards respecting their elders. "No nation can call itself 'progressive' unless its senior citizens are living a good life. India is known the world over for its Atithi Devo Bhava tradition which is all about according special treatment to your revered guests. Respecting elders and women indubitably hold the key to a nation's success", remarked Vats.
An extraordinary personality who has carved a special niche for himself in myriad spheres that he has forayed in the last thirty years or so, namely education, media and social work, Dayanand Vats is a role model for many. An eminent academician with an illustrious career spanning more than two decades, he has also been the inspiration behind the initiation of numerous socially relevant campaigns in his constituency such as women empowerment, citizen's journalism, adult literacy programs, Beti Bachhao, Tree Plantations drives and so on.
Author Bansi Dhameja opined, "Holistic education in schools should become mandatory to ensure that children are taught the relevance of respecting their elders at the very nascent stage of their lives. A society is hollow if the youngsters lack the fundamental values of respect, dignity and care towards their elders. Just like a man is known by the company he keeps, a society too gets defined by the core values and ethics of its 'inhabitants' especially the youngsters. Since Character building is an integral component of the school life, due emphasis needs to be given on ensuring its implementation. I have pledged all my support and time for the incredible humanitarian service being rendered by the visionary RAI team. In the light of the rising incidents of crime against senior citizens, it is time to empower organizations like RAI so that they can effectively brainstorm with the police and other concerned authorities to ensure the safety and well being of senior citizens in different residential colonies all over the country. Safety of senior citizens needs to be given utmost importance, and the lacunas need to be addressed as any loose end can lead to dire repercussions. I am truly overwhelmed with all the love and respect given to me by the RAI core team."
The guests bonded with each other at the Hi-Tea organized by RAI after the culmination of the program.