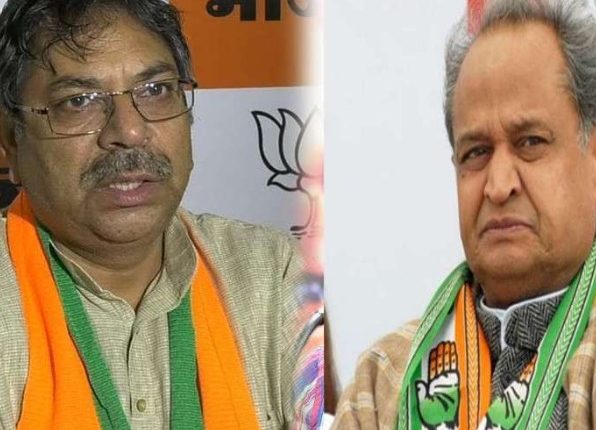 Rajasthan crisis continues, BJP delegation meets Governor Kalraj Mishra
Ten News Network
Jaipur (Rajasthan) [India], July 25, 2020: Amid the ongoing crisis in Rajasthan, a BJP delegation led by state party president Satish Poonia and Leader of Opposition Gulab Chandra Kataria met with Governor Kalraj Mishra today.
The senior leads of opposition party in the state arrived at the Raj Bhawan in Jaipur and met with the governor.
Following the meeting, BJP state president Satish Punia blamed the state chief minister of jeopardizing the law and order situation of the state with his warning of protesting at the Raj Bhawan.
Speaking to meeting after party delegation's meeting with the Governor, Punia said, "The warning that '8 crore people will gherao the Raj Bhavan' given by Chief Minister and Home Minister of the state can invite punishment under Section 124 of the IPC."
Echoing similar sentiments, Leader of Opposition Gulab Chandra Kataria also said the Chief Minister heading any such protest will worsen the law and order situation amid a pandemic. "Chief Minister is the head of the state & he said he'll not be responsible for a breach in law and order situation. If not him, then who'll be responsible? He should tender resignation for using such language," said Kataria.
Meanwhile, former Union Minister and senior BJP leader Rajyavardhan rathore also launched an attack at the state government. Speaking to media persons, he said, "What Congress govt did at
Governor House was a low-point in Rajasthan politics. There is no governance, those in power are lodged at a five-star hotel since weeks. People are suffering due to various issues."
The developments come a day after Congress legislators protested inside the state assembly premises demanding a special session to prove the majority of the government.