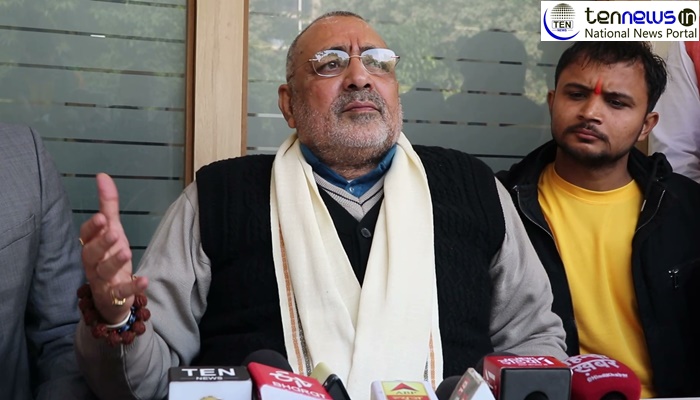 Ram Mandir will be built when 100 crore Hindus come together with strong belief: Union Minister Giriraj Singh
Talib Khan / Rohit Sharma / Rahul Jha
Noida, (25/12/2018): The issue of Ram Mandir remains to be the most talked about topic in India. And specially at the time of elections it comes more under the spotlight.
From last one year the issue has gained enormous support from the various Hindu organizations for the Ram Mandir to be built at Ayodhya.
But, somehow the Supreme Court has stalled the construction of Mandir there, for which the Supreme Court has faced many critics from the Hindu leaders and the people.
Today, at an event Giriraj Singh, Minister of State (Independent Charge) for Micro, Small and Medium Enterprises, speaks on the issue of Ram Mandir.
He said, "I have always said that when in 1963 the Prophet's hair (Hazrat Bal) which was located in Kashmir was lost every big official has been ordered to find it by then Prime Minister Jawahar Lal Nehru, and when the officials found it, then only Hindus in Kashmir took a sigh of relief. And in that same Kashmir, when 7 lakh Hindus were forced out of the Kashmir and were treated badly in 1990, no government official had showed any grievances".
"When 100 crore Hindus of India will come together which has now become a reality, then only the construction of Ram Mandir on the land of Ayodhya will start", he added.