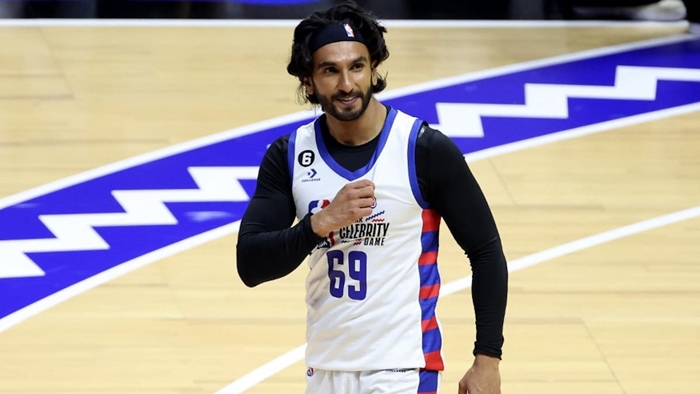 Ranveer Singh Plays in All-Star basketball league in Utah
Ten News Network
Mumbai, (Maharashtra) 19th February 2023: Bollywood Mega-Star and beloved Indian celebrity Ranveer Singh were seen playing basketball in the 2023 All-Star Game in Salt Lake City, Utah. This was Ranveer's debut in the game where played alongside other American celebrities and basketball legends.

On Friday Ranveer Singh made headlines when some snapshots of him playing basketball from Miami Heat's former player Dwayne Wade's team. He played alongside celebrities like Machine Gun Kelly, Jimmie Allen and Elhadji Tacko Fall. His teammates were actor Simu Liu, singer Janelle Monae, comedian Hasan Minhaj and tennis player Frances Tiafoe.
Ranveer who is the ambassador for NBA India played and in the end the team he played for ended up beating the other team by a score of 81 to 78. In the stadium, Ranveer received a warm and enthusiastic welcome and he also ended up meeting some of his fans. The Bollywood actor was also seen sharing a candid moment with the American Star and Jennifer Lopez's husband, Ben Affleck. Been Affleck and his son Sammuel spoke to the crowd and announced the teams for the game.
The All-Star Celebrity NBA game is a huge spectacle in the United States and many moments of the game went viral on the internet and were trending on Twitter.