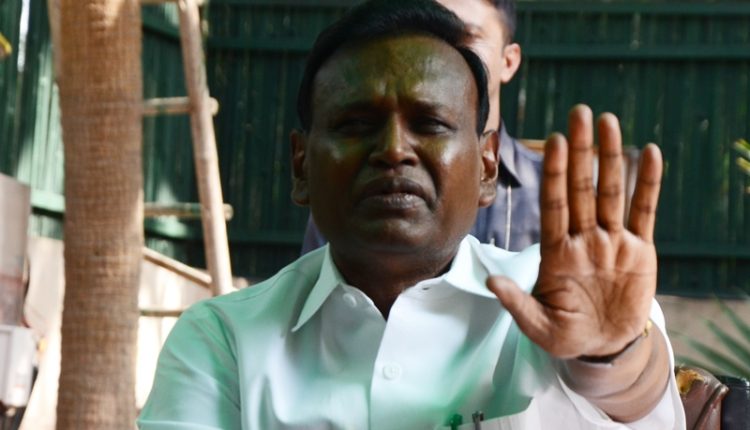 New Delhi: BJP MP and Dalit activist, Udit Raj on Friday said that the trend of eating with dalits wouldn't solve any problem. The ruling party has to identify the issues that community faces and should try to resolve it.
He said, "After April 2 nationwide dalit outcry, government should take lead from the incident and work towards the upliftment of the dalits. Eating with dalits is a good move but it wouldn't change anything."
He gave these statements while addressing media on Friday.
He didn't shy from mentioning that today, I'm speaking as a dalit activist not as a BJP leader.

"Today dalit youths are unemployed, owing to privatization of education they failed to get higher education, recruitment in government sector is freeze since 1990's. Owing to these, they are frustrated and April 2 incident is the proof of their frustration. Bimari Kuch aur hai, dawa kuch aur ho rahi hai."
Referring to the changes in SC/ST atrocities act and amendment in professor recruitment by the Supreme Court, 55-year-old BJP leader and Delhi legislator said,
"Government and court is taking away dalit's right and leaders are paying visit to Dalit home and having food with them.  Dalits want their rights, they want jobs, they want freedom and if any government failed to do so, they have to go."
Replying to a question of his stand in misuse of SC/ST atrocities act, he replied, "I agree, there would be chances of misuse but there is a huge misuse of article 376, dowry act but neither court nor government have abolished it but they amend this law."
Without taking name of the party and leaders, he said, "Before 2014 election, Congress chief Rahul Gandhi visited countless dalit homes and had food with them but what was the result. No dalit voted to Congress. If any government or leader failed to understand dalit atrocities, they have to pay by losing election.