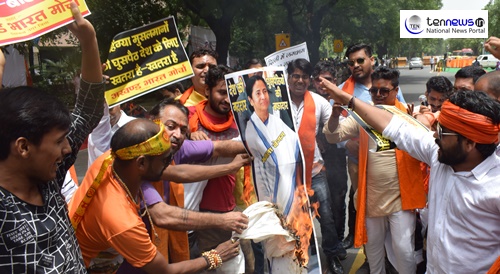 New Delhi: The first draft of Assam's National Register for Citizenship (NRC) has sparked controversy across the country. Political parties as well as social groups have hit the roads to show their agreements and disagreements over the issue.
Amid all this a right wing group has voiced demand for implementing NRC in Delhi on the lines of Assam.
On Saturday, several social groups held protest in National Capital's historic Parliament Street over NRC.
On one hand, Akhand Bharat Morcha, a right-wing group demanded to continue the implementation of NRC in Assam and burnt the effigy of West Bengal Chief Minister and TMC Chief Mamata Banarajee who has protested against Assam's NRC and said it may trigger civil war in the country. On other hand, Asom Sankhayalghu Sangram Parishad protested against arbitrary exclusion of Indian citizen in NRC and demanded for fair implementation.
Meanwhile, members of Bharat Raksha Manch (BRM), another right-wing group demanded NRC in Delhi on the lines of Assam.
Speaking to media, chief of BRM, PK Singhal said, "We demand NRC in Delhi just like Assam. There are around five lakh illegal Bangladeshi migrants in the National Capital and indulged illegal activities. Besides crime, they are extorting our resources and food and Indian citizens have been suffering due to them."
He further said government should identify them and send them to their ancestral home Bangladesh.