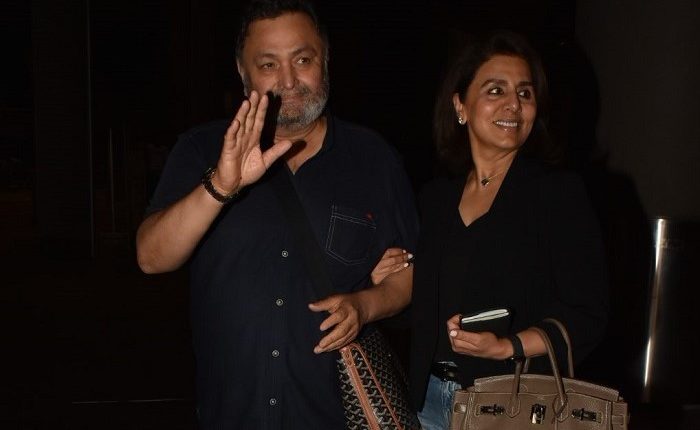 Rishi Kapoor returns home with Neetu Kapoor after cancer treatment
Actor Rishi Kapoor is finally back in India with his wife Neetu Kapoor, after completing the cancer treatment in the US. The couple landed at the Mumbai airport today morning.
Rishi was looking hale and hearty dressed in a dark shirt and blue trousers. And, Neetu was looking charming in black top and blue jeans. Both of them were quite happy to be back and they even waved to the paparazzi who were there to welcome them.
Check out the pictures here:
//www.instagram.com/p/B2NW3ipJoFc/?utm_source=ig_web_copy_link
Afterwards, the veteran actor took to Twitter to announce his arrival in Mumbai. He wrote, "BACK HOME!!!!!! 11 Months 11 days! Thank you all!"
BACK HOME!!!!!! 11 Months 11days! Thank you all!

— Rishi Kapoor (@chintskap) September 9, 2019
Replying to Rishi's tweet, singer Adnan Sami wrote, "Welcome back!! Thrilled!!" His fans also welcomed him on his social media page. One of them wrote, "Sir, Thats really a great news!! Welcome back Sir!! The Nation will be the happiest today!!!"



Earlier in a chat conversation with Asha Bhosle on her birthday he had hinted about his return. The veteran singer had replied to Rishi's birthday tweet, "You wished me over the phone last year when you were getting your hair & makeup done for a movie. We spoke about you coming home for a meal. Since then you've been in USA & I've been thinking when will you be back. Take care of yourself." He promised to visit her in his reply, "Will come over now! Sorry!"
Rishi's friend Anupam Kher who had been visiting the actor during his stay in New York had wrote a heartfelt post for his buddy on his return to India. He tweeted, "Dearest #NeetuKapoor and @chintskap !! Here is wishing you a safe trip back to India after being in New York for almost a year. I have mixed feelings. I am happy & sad at the same time. I am going to miss you terribly. We had a great time together. Thank you. Love & prayers."
Rishi spent almost a year in the New York and had expressed his desire to return home for Ganpati celebrations.