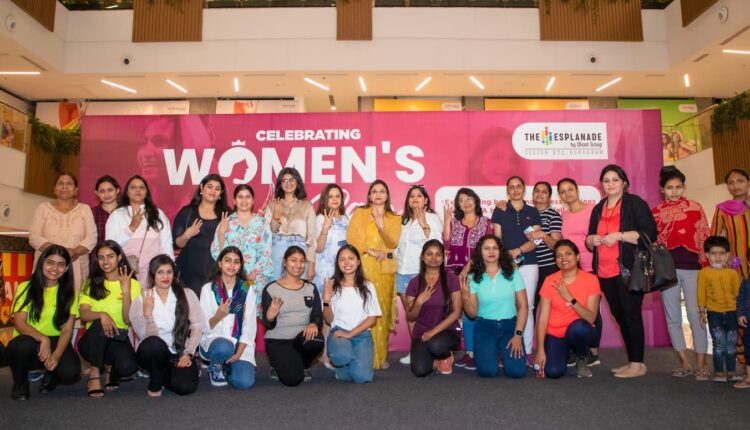 Rock Ladies Rock! : The Women's Day celebration at Esplanade Mall, in association with The H3 foundation.

Gurugram, 5th March 2023. They said where there is a woman, there is magic! So, The Esplanade Mall, in association with The Hope Hustle Happiness Foundation organised an event for reward and recognition of the women's contribution towards society. This Women's Day celebration took place on Sunday evening, 4th March in The Esplanade Mall, Gurugram. The key highlights of this program was a panel discussion with the a senior gynaecologist of Manipal Hospitals, a Zumba and Fitness workshop by Big Boss fame 16 Shabina Kundial and an award ceremony for women entrepreneurs.
Women from all across Delhi and NCR region came to take  suggestions of doctor  on crucial topics like female health and hygiene. All of their queries had been answered well by scholarly doctor of ManipalHospital and women present there got some pro tips to take care of their body and mind as well! Shabina's workshop caught the spotlight as a lot of her enthusiastic fans arrived there to take part in it. Shabina said that "
"Wherever there is a woman, there is magic!!
As a woman, we always have people telling us what we have to do or we have to be a certain way; but do what you feel is right!
There can be filters in a photo but a good heart can't be photoshopped! Have a good heart and a positive soul, which u already have but always be grounded!
At the end of the day, i would like to say that keep doing what you love and the better would automatically kick in!
To all my ladies, you will achieve what you want one day!
Never stop giving your best and be grateful always!"
The successful completion of The Women's Day celebration happened with the award ceremony for women entrepreneurs who have acclaimed their individuality and uniqueness by their start-ups and influencing skills. The Director ,Dhoot Group Mr. Piyush Dhoot said that "Women are the backbone of the society. Modern women are taking great endeavour in raising kids and taking care of family along with their career! Esplanade Mall salutes to all the brave and courageous women of our nation." All the visitors as well as the guests applauded on this.