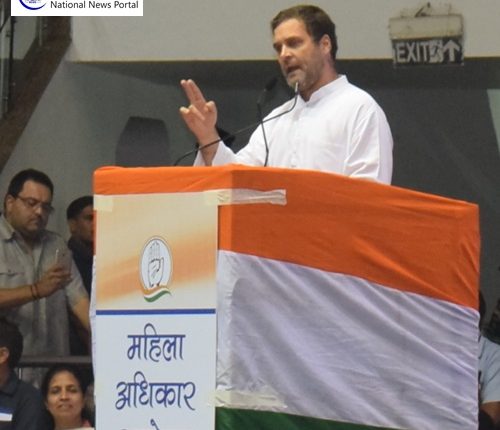 New Delhi: Scatting attack on Union Government during Congress Mahila Adhikar Sammelan, Congress president Rahul Gandhi on Tuesday said that RSS-BJP is stalling the progressive Women Reservation Bill because giving power to women is against their ideology.
"Despite our emphasis and support on Women Reservation Bill, the BJP-led government is stalling it because they are against women empowerment. The parent organization of BJP, RSS don't believe in giving power to women and it proves with their history. Since inception, they don't have any women chief," said Congress president Rahul Gandhi.
"RSS is the organization of men, if a woman would have entered into this, she will change the entire organisation," he added.
The women wing of grand old party, All India Women Congress Committee organised 'Mahila Adhikar Sammelan' at Talkatora Stadium on Tuesday where women workers from across the country participated.
Asking for active contribution in the party, Congress president said, "I want more women like Delhi Chief Minister Sheila Dikshit. I want to see women as Chief Minister of other states. I assure you that the party will give you full opportunity to shine, but you need to prove yourself."
<iframe width="560″ height="315″ src="//www.youtube.com/embed/kXkz8_62r1M" frameborder="0″ allow="autoplay; encrypted-media" allowfullscreen></iframe>
Later, he also unveiled the All India Mahil Congress flag and launched them song. He said, "Now, the Congress women have their own flag and theme song, which will give identity to the women wing."