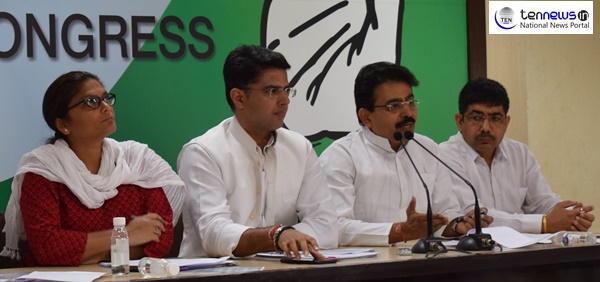 New Delhi: Today at All India Congress Committee, Congress politician Sachin Pilot, MP Rajiv Sarav and Sushmita Dev held a press conference against the scams in India that were caught in the past few years that allegedly involved Narendra Modi.
Politician Sachin Pilot, while addressing the conference, started blaming BJP for all the major scams that happened in recent years.
He said,
"First 44 months of Modi Government, India witnessed an unprecedented 19,000 bank fraud cases involving Rs 90,000 Crore. 23 fraudsters have escaped India under Modi's watch after duping the country by over an amount of 53,000 Crore. Successive escapes of Vijay Malla, Lalit Modi, Nirav Modi, Mehul Choksi and others reflect that Modi government is not a guardian of Public Money, but a Travel Agency facilitating 'Fraud, Fleece and Fly to Foreign Shores' of willful bank defaulters."
Speaking at the conference, MP Rajiv Satav shared some of the facts related to scams including Nirav Modi and Mehul Choksi.
He said,
"Mehul Choksi & Nirav Modi, through their companies Gitanjali Gems Ltd. and others, have committed a fraud/willful bank loan default of Rs 21,306 Crore. In addition, Gitanjali Gems Ltd. had floated 3 jewellery schemes, which have duped India's middle class & common investors of Rs 5,000 Crore approx. as per complaints submitted in Sept. 2015 in Gujrat. The total fraud is, thus, Rs 26,306 Crore."
The fact that Mehul Choksi was likely to escape was also stated on an affidavit dated 20.07.2016 by Digvijay Singh Jadeja in Gujrat High Court in case titled "Mehul Choksi vs State of Gujrat", but no action was taken.