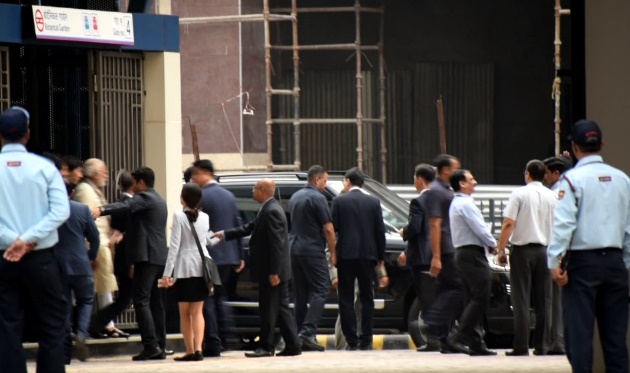 Samsung Noida Inauguration : PM Modi, South Korean President Moon Jae-in Ride in Metro, Invoke Historic Bond between two countries!
Prerit Chauhan (Photo/Video) By Lokesh Goswami Ten News )
New Delhi: Prime Minister Narendra Modi and South Korean President Moon Jae-In today inaugurated Samsung India's new manufacturing facility at sector 81, Noida. The new facility will reportedly be the world's largest mobile phone manufacturing facility with the capacity of shelling out 120 million mobile phones a year.

The expanded Samsung unit in 35 acres will produce 1.2 crore phones per month with a workforce of 70000 people.
It was a joyous day for hundreds of school children waiting to Greet the Prime Minister Narendra Modi and South Korean President Moon Jae-in at Sevral Spots in Noida.
The Students were excited to be see Narendra Modi for the first time in their life.

Ten News Caught with the Enthusiast Students, Before the Arrival of of PM Modi, Speaking to Ten News Students said, "We are very excited to be here . we got to know that PM will also be there, we became very happy. We wanted to see him since long."
However, Sudden Change in Prime Minister Route as PM Modi traveled in Delhi Metro with President of South Korea Moon Jae-in. They boarded the Metro at Mandi House station and travelled upto Botanical garden dissappointed students who were eagerly waiting for Prime Minister Narendra Modi.

After arriving at Samsung plant the two head of states invoked the centuries old legacy of India-Korea ties.