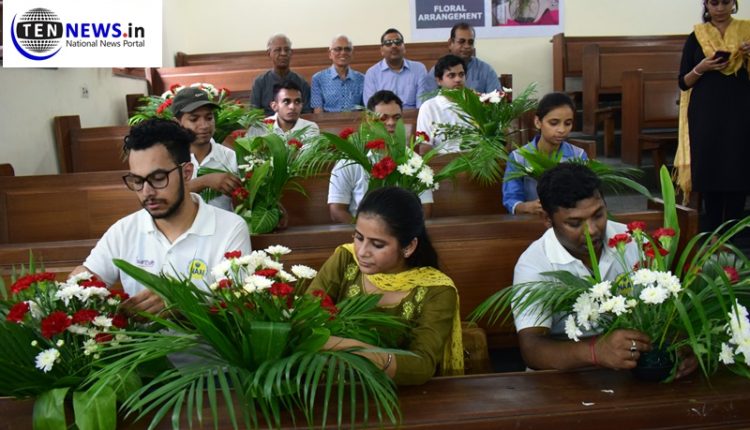 Sarthak Education Trust to set up First-ever, Global Resource Centre for People with Disabilities (PwD) at Gurgaon
Prerit Chauhan (Photo-Video) Lokesh Goswami Tennews New Delhi :
New Delhi: This was not an ordinary classroom, nor an ordinary training centre or neither a mundane event. This was for differently-abled individuals. 27 year old, hearing Impaired Sanjeev Kumar has come with a a hope to bag a job in the hospitality sector through the North Zone Regional Abilympics & Job Fair held at the Lady Irwin College at New Delhi today.
Similarly, Lakshmi Kumari from Dehradun who is 100% visually impaired had won 2 Gold Medals last few years in Floral Arrangements. She is keen to take this talent to her city and train young girls. Flagged off today, Delhi Abilympics is a skill-based competition that provides a platform for the differently-abled. Organised every year, its events test competitors' mental, physical and creative abilities. Participants get a chance to display skills at everything from computer programming to Bakery to floral arrangement.
The event hosted by the National Abilympics Association of India (NAAI), under the aegis of Sarthak Educational Trust with the support of The Hans Foundation, witnessed participation of over 400 people with disabilities (PwDs) across its various venues.
The Inaugural Ceremony was graced by Shakuntala Gamblin, Secretary, DePwD, Dilip Chenoy, Secretary General, FICCI, Mr. Manish Kumar, CEO, NSDC, K. Narayana Rao, Group Dy. Managing Director, GMR, Padma Bhushan Dr. MB Athreya, Sarthak Mentor & Guru, Krishan Kalra, President, NAAI, and Dr. Jitender Aggarwal, Founder & CEO, Sarthak & Secretary General- NAAI.
"Abilympics have been the Olympics showcasing the abilities and tremendous competitive zeal of PwDs" shared, Dr. Jitender Aggarwal, Founder & CEO, Sarthak & Secretary General- NAAI while adding "Understanding the potential amongst these talented people, Haryana Government has given us land to develop first-ever, Global Resource Centre of the Country for Persons with Disabilities (PwD's) at Gurgaon.
The Centre will have five wings adddressing health care & education, skill development, disability sensitization, incubation centre & technology upgrade, International collaboration & media & communication advocacy programs. The centre will help address inclusivity issues of PwD's, globalize resources, and appeal to corporates & masses to come together ". He also shared 65% Divyangjan live in villages and Sarthak Education Trust intends to reach out to rural employment".