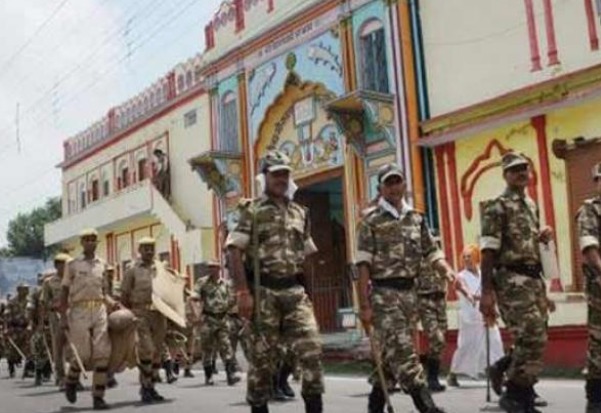 Security tightened in Ayodhya ahead of foundation laying ceremony, CM Yogi to visit tomorrow
Ten News Network

Ayodhya (Uttar Pradesh), August 1, 2020: Ahead of the scheduled foundation laying ceremony of Ram Temple at the Ram Janambhoomi site, the security has been tightened in the temple town on the banks of river Saryu.
The town, that's usually buzzing with large number of pilgrims and tourists, is witnessing an influx of security forces and enhanced barricading on all the major streets and roads.
Meanwhile, Uttar Pradesh Chief Minister Yogi Adityanath is slated to visit Ayodhya tomorrow to take stock of preparations for foundation stone laying ceremony of Ram Temple.
Sharing details of the preparation in the temple town, Ayodhya SSP said, "Security arrangements for foundation stone laying ceremony of Ram Temple on August 5 in place. COVID protocols will be followed."
He also urged people to avoid any gatherings. "I'm requesting everyone to not let more than 5 people gather at a place. We have also planned route diversions at 12 places to ease traffic movement," he stated.
Moreover, former Chief Minister of Uttar Pradesh, Kalyan Singh, who had to resign after the demolition of Babri Mosque on December 6, 1992, has confirmed receiving an invite for the ceremony and said that he will be attending it. Speaking to a news agency earlier in the day, he said, "PM Modi will attend the foundation stone laying ceremony of Lord Ram's temple in Ayodhya on August 5. I will also reach there on August 4 and attend the ceremony the next day. It is a matter of extreme happiness for me," said former Uttar Pradesh Chief Minister Kalyan Singh.
Former Madhya Pradesh Chief Minister Uma Bharti has also said that she will be attending the ceremony in Ayodhya.