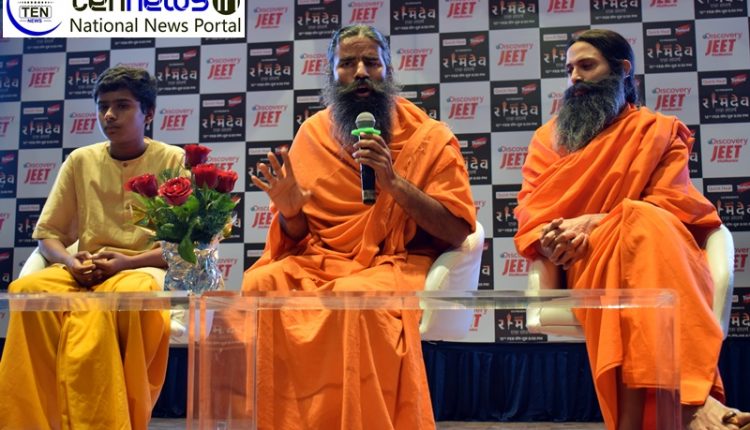 See yoga Guru-turned-businessman, Baba Ramdev biopic from Feb 12 at Discovery JEET
Kashif Hasnain (Photo/Video) By Lokesh Goswami Ten News Delhi :
New Delhi: First time in the history of Indian television any religious and Yoga guru have been featured.
Discovery India is all set to launch a new television serial featuring the life and journey of Yoga guru-turned businessman Baba Ramdav 'Swami Ramdev: Ek Sangharsh' which will telecast on Discovery's new channel 'JEET' on Wednesday at the Constitution Club of India.
While launching of serial, Baba Ramdev shared stage with lead actors of his biopic, Naman Jain (who played childhood role of Ramdev) Kranti Prakash (who played the role of Baba Ramdav).
"I have told the Disney to portrayed my real story on the television. I have seen the some of them, these are not fictitious."
The serial had been shot on different locations like Rajasthan, Haridwar and Mumbai. Discovery JEET will narrate the story of Ramdev's life from his early days to becoming a national icon.
Ajay Devgan FFlims and Watergate Production is co-producer of the serial.
Swami's life is full of ups and downs. It in an inspirational story of an individual winning all odds, the exact thesis of the Discovery JEET, launching Feb 12 in India.
Senior vice president and general manager of the South Asia, Discovery Communications India, Karan Bajaj said, "When our writers' team met with Swami Ramdev for a 1-hour show, then we realised that his life cannot be captured in such a short stories. So, we decided to a biopic, which is spanning in 85 episodes which we believed to capture the hearts and minds of our target audience across the India."