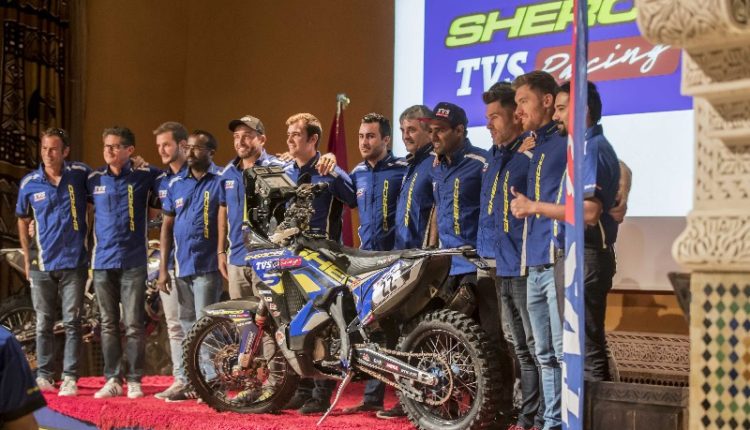 Sherco TVS Rally Factory Team today announced a 4-rider squad for Dakar 2019, scheduled to take place between Jan 6th –17th 2019 in Peru. The team includes the experienced Metge brothers Michael and Adrien from France, Enduro Champion Lorenzo Santolino from Spain and an Indian rider will be a part of the Rally. Team will be riding specially built RTR 450 rally motorcycles. With strong performances, this year in the Baja Aragon, PanAfrica Rally & Rally of Morocco, the SHERCO TVS Rally Factory Team is aiming for a top-10 finish at Dakar 2019.

Lorenzo Santolino will be participating for the first time in Dakar, while it will be the 6th Dakar for Michael Metge and 4th for Adrien Metge. India's Aravind KP is recovering from the injury sustained during PanAfrica rally. He will undergo a fitness test on Oct 26th in France post which the team will decide on his selection. If Aravind KP is not selected, the team will have the option to select another Indian rider for the squad.
Vinay Harne, President – New Product Development, TVS Motor Company says, "It is a moment of pride for us to see Sherco TVS Rally Factory Team on the Dakar map for the fifth consecutive time. Our partnership with Sherco Motorcycles has been a mutually rewarding experience in terms of technology as well as exposure. We ensure that our engineers and racers partake in International Rallies to prepare the team for the ultimate goal – Dakar. This year, the team has showcased strong performances in the runup to Dakar and I am confident of a Top-10 finish."
Dakar rally 2019, in its 41st Edition, is the annual international Rally-Raid – the ultimate test of man and machine. This year, unlike the previous editions, the Rally will cover only one country – Peru. It will see the riders starting from Lima, cruising through terrains of Pisco, San Juan de Marcona, Arequipa and Moquegua, covering a total distance of over 5000 km.
Thomas Teissier, General Manager, SHERCO Motorcycles said, "This year, we have a bigger team, which has showcased phenomenal camaraderie in past Rallies therefore bettering our chances at a top-10 finish. The Dakar debutants, Lorenzo Santolino and Harith Noah have brought in fresh energy into the team with the Dakar veteran Michael Metge fueling the expertise and motivation. Adrien have shown his great potential and we are expecting positive results. I am thrilled to have found the perfect combination of experience and youth to conquer Dakar 2019."
The SHERCO TVS Rally Factory Team participated in six International Rally-raids in 2018 – Baja Aragon, Merzouga Rally, PanAfrica Rally, OiLibya Rally of Morocco, Desafio Inca 2018 and Desafio Ruta 40. With four podium finishes and some stellar performances, the team is all geared up to face the ultimate test.
Michael Metge, Racer, SHERCO TVS Rally Factory Team said, "Although it will be my 6th Dakar outing, every time it feels like the first one because the race is unpredictable. This year, the race will be exciting as it will be held only in one country so all riders will fancy their chances. I am extremely happy with my preparations and with the support of the SHERCO TVS Rally Factory team, I am confident of a top 10 finish."
Adrien Metge, Racer, SHERCO TVS Rally Factory Team said, "Dakar is what we train for all year but no matter how much you are ready, the race will throw up surprises. I was unfortunate to crash out last year but I have put that behind me. With the support of my team, I have made a quick recovery. My recent performance in Morocco has boosted my confidence and I look forward to a strong finish."
Lorenzo Santolino, Racer, SHERCO TVS Rally Factory Team said, "This is my first Dakar and I am thrilled to participate along with a great team line up such as this. So far, this year has been rewarding for me with consistent performances in all international rallies. I will use this confidence to finish Dakar on a high."