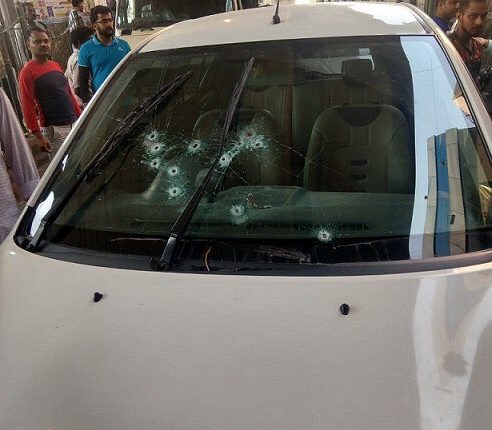 New Delhi: Shoot out in broad daylight on the streets of Delhi yesterday raised a question of serious security lapse. Gang war around 5 pm on busy road beneath Dwarka Mor metro station on Sunday evening created a terror like feeling amongst the citizens.
The sensational shootout in Dwarka saw three-way exchange of fire between two gangs and cops on a busy street led to the death of two gangsters.
The shootout started around 5 pm on Sunday when two bike-borne assailants opened fire at a car as they rode pass it. The people in the car shot back at the bikers, turning the region into a war zone. After 15 rounds of firing, Praveen Gehlot, one of the persons sitting inside the car was shot dead by the bike-borne assailants.
The police said that a wanted criminal identified as Parveen Gehlot, a resident of Nawada, was in his car when three criminals in another car intercepted him at a traffic signal beneath Dwarka Mor metro station and opened fire at him.
The PCR van standing on the other side of the road took notice of the war-like situation and managed neutralise the criminals on the bike. After a heavy exchange of fire, the police gunned down the man who had shot Praveen Gehlot.
Joint CP (Western Range) Madhup Tiwari said both the deceased are criminals and have several cases of murders, extortion and robberies registered against them at various police stations in Delhi and Haryana.
He added that Vikas Dalal was the most wanted criminal and has been on the run since he escaped from the custody of Haryana Police from a court in Faridabad in 2018.