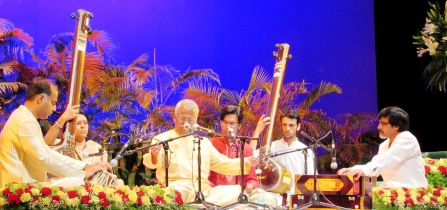 Shriram Bhartiya Kala Kendra's 69th shriram shankarlal Music Festival 2016 "Vocal by Nagaraja Rao"
Video 1 [youtube https://www.youtube.com/watch?v=1rQAuXMdOdg&w=420&h=315]

Video 2 [youtube https://www.youtube.com/watch?v=2YAzGxyG5qM&w=420&h=315]
Video 3 [youtube https://www.youtube.com/watch?v=48HEa_FasNM&w=420&h=315]
And with this understanding, the Shriram Bharatiya Kala Kendra's 69th Shriram Shankarlal Music Festival 2016 presents the country's music luminaries namely Pt. Dr. Nagaraja Rao Havaldar, Dr. Ashwini Bhide Deshpande, Kaushiki Chakraborty, Pandit M. Venkatesh Kumar, Ustad Shahid Parvez Khan, Pandit Ulhas N. Kashalkar, Ustad Rashid Khan, Rakesh Chaurasia and Pandit Jasraj from March 31st to April 3rd, 2016 at Kamani Auditorium. Shriram Bharatiya Kala Kendra founded 69 years ago, has presented to the connoisseurs of fine music, an iconic dais for the oldest Music Festival in the country namely Shriram Shankarlal Music Festival successfully, carrying forward traditions of and the country's music icons to showcase exceptional young talent, allowing the charm of our enriched heritage, while weaving in the resonance of youthful sensibilities of the Indian classical performing arts, via their epic productions with a touch of the contemporary that never ceases to enthrall the youngsters. The Shriram Bhartiya Kala Kendra has secured for itself, an unchallenged position as an active propagator of the Indian Classical Performing Arts, Mythological, Contemporary and Folk Productions of epics. The Shriram Shankarlal Music Festival, the oldest Music Festival in the country has very successfully carried forward the tradition of incorporating a noteworthy synergy of the skills – of the country's eminent maestros, with the vibrancy of exceptional young talent, without alienating the intrinsic heritage and successfully meeting the challenge of enjoying unabated popularity.
Says Padamshri, Shobha Deepak Singh (Director & Vice Chairperson – Shriram Bharatiya Kala Kendra), 'The Kendra, in keeping with its tradition of nurturing India's rich cultural heritage, is proud to present this year, the sixty ninth edition of the country's oldest music festival – the Shriram Shankarlal Music Festival. In its nascent years, it was only the senior artists who enjoyed august positioning on this prestigious podium, but now, younger talent has received due appreciation, alongside senior artistes. We are proud of how the erstwhile young talent found glorious wings in the Indian and global arenas. We try and improvise on the presentations by having variations of the accompanying instrumental artists.'
Please find below the schedule and very brief profiles of the artistes :
Thursday, March 31st, 2016 : vocal by Pt. Dr. Nagaraja Rao Havaldar at 7pm, followed by vocal by Dr. Ashwini Bhide Deshpande
· Dr. Nagaraja Rao Havaldar : Pandit Dr. Nagaraj Rao Havaldar is a leading artiste of the kirana gharana and disciple of Pt. Madhava Gudi, (Bharat Ratna), Pt. Bhimsen Joshi, Pt. Panchakshari Swami Mattigatti and Pt. Havaldar who brings to his performances the subtle understanding of a scholar and the finesse of an aesthete. Hindustani Classical Music bhajans in various languages create a spiritually uplifting ambience. Pt. Havaldar has been a pioneer in popularising the Kannada khayal by adapting vachanas, literary works of Haridasa and suitable contemporary poetry in Kannada to the traditional khayal form.
· Dr. Ashwini Bhide Deshpande : An artiste from the intricate Jaipur-Atrauli khayal gayaki tradition, is a disciple of her eminent guru, artiste and mother Smt. Manik Bhide. Her early Sangeet Samskara was complemented by the very systematic training she received from age five
Friday, April 1st, 2016 : vocal by Kaushiki Chakraborty at 7pm, followed by vocal by Pandit M. Venkatesh Kumar
· Kaushiki Chakraborty : could reproduce Hindustani classical vocal patterns at age two. Connoisseurs agree that Kaushiki is the best Hindustani vocalist of her generation today. Her prowess as a khayal singer is well known, but she is adept at singing other 'light classical' genres like thumri, dadra, kajri, chaiti, bhajan etc. Whatever her chosen form, her singing is characterised by a fine balance of virtuosity, intellectual rigor and aesthetic sensibility. Kaushiki has recorded many albums and received several prestigious awards, including the Jadubhatta Award, Ustad Bismillah Khan Yuva Purashkar (Sangeet Natak Academy Award by the Government of India) in 2012, the BBC award for outstanding achievement in 2005 for the album "Pure", the GIMA award for her album "Yatra 2" in 2012, Mirchi Music Award for the album "Yatra 2" in 2013, Aditya Birla Kala Kiran Award in 2013 and Bobby Sethi Music Award in 2015.
· Pandit M. Venkatesh Kumar : M. Venkatesh Kumar gifted with a robust and vibrant voice, has carved a niche for himself in the field of Hindustani music. Having trained a number of students, he is at present a regular performer on All India Radio and Doordarshan, having presented his art before audiences both in India and abroad, with several recordings to his credit
Saturday, April 2nd, 2016 : sitar by Ustad Shahid Parvez Khan at 7pm, followed by vocal by Pandit Ulhas N. Kashalkar
· Ustad Shahid Parvez Khan : Shahid Parvez Khan is privileged with both belonging to an illustrious musical family, pushing its boundaries to even greater heights of aesthetic beauty. He has performed in all major musical festivals in India and abroad including the Festival of India held in the US, Europe, USSR, Canada, Middle East, Africa and Australia;
· Pandit Ulhas N. Kashalkar : belongs to a family of musicians and was initially groomed by his father Nagesh Dattatray Kashalkar, a well-known vocalist of Gwalior gharana. Ulhas is one of the prime representatives of Gwalior and Jaipur gharanas, who has earned wide recognition in India and abroad.
Sunday, April 3rd, 2016 : vocal by Ustad Rashid Khan at 11am. At 7pm flute by Rakesh Chaurasia followed by vocal by Pandit Jasraj.
· Ustad Rashid Khan : Ustad Rashid Khan has included the slow elaboration in his vilambit khayals in the manner of his maternal uncle and also developed exceptional expertise in the use of sargams and sargam taankari. He has also included the slower tempo vilambit. Ustad Rashid Khan is extremely adept in producing all the other techniques and characteristic features of the Rampur Sahaswan style. His taankari is as powerful and variegated as any of his predecessors and, in fact, amongst the best in the nation at the moment.
· Rakesh Chaurasia : the nephew and child prodigy of flute maestro Pandit Hariprasad Chaurasia, has a famous name to live up to. Amongst the promising musicians of the second generation, Rakesh has carved a niche for himself, as an accomplished flutist.
· Pandit Jasraj : the Mewati maestro, endowed with a rich, soulful and sonorous voice which traverses effortlessly over all three and a half octaves. Pandit Jasraj has won several prestigious awards and honours, including the Padma Vibhushan, Sangeet Kala Ratna, Master Dinanath Mangeshkar Award, Maharashtra Gaurav Puraskar, Marwar Sangeet Ratna Award and the Sangeet Natak Akademi Fellowship.
Indeed Padamshri Shobha Deepak Singh's ceaseless endeavour via the Shriram Shankarlal Music Festival is related to Ludwig van Beethoven's enunciation, "Music is the wine which inspires one to new generative processes, and I am Bacchus who presses out this glorious wine for mankind and makes them spiritually drunken.", where the audience emerges in a state of spiritual drunkenness.