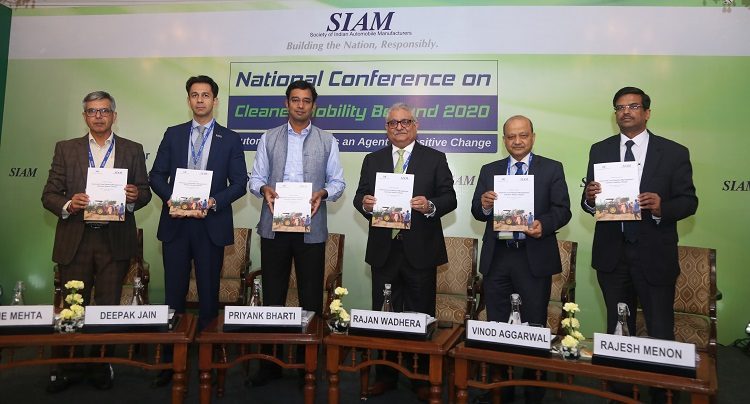 SIAM Highlights Contributions of Auto Industry in Promoting Cleaner Mobility Solutions
New Delhi, 11th November 2019: Society of Indian Automobile Manufacturers (SIAM), organized a national conference on 'Cleaner Mobility, Beyond 2020: Automotive Sector as an Agent of Positive Change' today. The aim of the conference was to showcase commitment and contribution of the auto industry towards bettering the air quality and promoting sustainable mobility through an integrated approach. This was done by emphasizing how the industry has aligned with the imperatives of sustainable mobility through adoption of innovative technology and initiatives. Various measures undertaken by the industry in conjunction with the government to drive the automotive industry towards a lower emissions threshold were highlighted.
Mr Deepak Jain, President, ACMA and Chairman & Managing Director, Lumax Industries said, "The auto industry is perceived to be the major contributor towards pollution which is not correct. We, as an ecosystem, must jointly put efforts to amend this viewpoint. Additionally, industry is making significant efforts for introduction of BS VI emission norms. At the same time, industry must bring to fore the significant role it plays in the national development and economic growth."
Mr Rajan Wadhera, President, SIAM and President (Automotive Sector), Mahindra & Mahindra Ltd. said, "With BS VI, now diesel will be at par with gasoline in terms of tail pipe emissions. Rhetoric of diesel as a bad fuel should therefore be put to rest. We must now develop a National Roadmap for Alternative Fuels towards cleaner mobility beyond 2020. Government's has recognized that stubble burning is one of the major contributors of air pollution in Delhi-NCR. SIAM has also done its bit to address the issue through its anti-stubble burning campaign Sukh da Saah in a small region of around 9 villages in Punjab by engaging with farmers and authorities to put a stop to this practice. The pilot project was successful in reducing stubble burning by 75%."
An impact assessment report of the Sukh Da Saah campaign titled 'Improved Crop Residue Management Initiative Nabha, Patiala', was launched which was followed by the first technical session on vehicle emissions and regulations.
Mr Priyank Bharti, Joint Secretary, Ministry of Road Transport & Highways, GoI, commented, "The Ministry engages with the industry on essential policies like the Motor Vehicles (Amendment) Act, 2019 to provide safer as well as practical mobility solutions. Likewise, government is looking at cleaner mobility solutions in line with policy continuity by engaging with the industry."
Mr Vinod Aggarwal, Treasurer, SIAM and Managing Director & Chief Executive officer, VE Commercial Vehicles Ltd. said, "Smooth mobility of goods across the country is the lifeline of the economic growth. At the same time, we must ensure that we continue to move towards cleaner mobility through adoption of electric vehicles, alternative fuels and stricter compliance to emission norms."
In the first technical session on 'Vehicle Emissions & Regulations', Prof Mukesh Sharma, IIT Kanpur expounded upon various sources of air pollution, citing biomass burning as a major contributor. He stressed that transition to BS VI would bring in a new dawn which has been made possible with significant investments by the industry.
The second technical session focussed on Sustainable Mobility- Electrification & Alternative Fuels. Delivering the opening marks Mr Pravin Agrawal, Joint Secretary, Ministry of Heavy Industries & Public Enterprises said, "We need to tackle multiple national objectives. Apart from our aim to bring cleaner mobility with an ultimate aim of zero emissions in future, energy security is also a critical national requirement. Government and industry must work together to develop a framework of multiple technology options for multiple goals the country needs to achieve."
The third technical session on Vehicle Life-Cycle Analysis was chaired by Mr Manoj K Gangeya, Director, Ministry of Environment, Forests & Climate Change. Mrs Rashmi Urdhwarshe, Director, Automotive Research Association of India (ARAI) spoke on how circularity of the economy is one of the driving forces in achieving the goal of clean air. She stressed on the necessity of a massive shift to highly recyclable materials as the need of the hour. Mr Anand Kumar, Scientist (E) & Divisional Head, Central Pollution Control Board presented an elaborate action plan for management of plastic waste. Mr Bharat Kumar, Scientist E, Central Pollution Control Board stressed on the need to regularise ELV activities through the guidelines and regulations formulated by CBCP in 2016 & 2019. He concluded the session by talking about the regulatory framework applicable for setting up of ELV recycling facility.
In the final session on 'Integrated Approach for Clean Air Management', Mr Sharath Kumar Pallerla, Director, Ministry of Environment, Forests and Climate Change elucidated on the key short term and long term goals identified under the National Clean Air Program, that offer an integrated approach to tackle different issues causing air pollution.
The conference brought out the fact that an integrated approach is needed for addressing air quality concerns by involving each key stakeholder, for achieving sustainable development goals and better air quality.