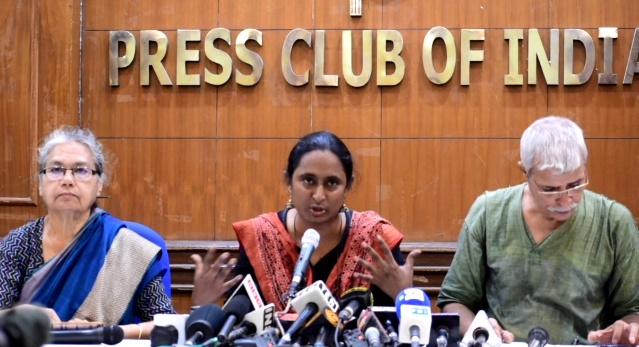 Solidarity reports on J&K put serious allegations on Army without any evidence
Saurabh Kumar (Photo-Video) Lokesh Goswami Tennews New Delhi :
Today a solidarity team consisting of Jean Dreze (economist), Kavita Krishnan (AIPWA), Maimoona Mollah (AIDWA) and Vimalbhai (NAPM) released a report along with photo and video documentation on the ground reality of Jammu and Kashmir. The team has just returned from extensive travels in Kashmir and reveled reports alleging that situation on the ground, they found, is completely different from what has been reported in the Indian media so far.
But while presenting the reports the team looked influenced with a separatist mindset as the kind of wordings they used. They claimed that Indian forces were sexually torturing Kashmiri women's a and detaining their man.
While the team remaind unable to produce any evidence of what they were claiming. One of the member Vimalbhai taking a jib on Home minister Amit shah and said "he is aware of how it feels in Jail and when you were barded form district by court.
One of the other member said except the BJP spokesperson on Kashmir affairs, we did not meet single person who supported the Indian government on article 370. Anger and fear were the dominant emotions we encountered every where but no is willing to speak on camera.
A woman at sopore told us that " We were prisoners in our own land from seven days even toady on eid shops are close".