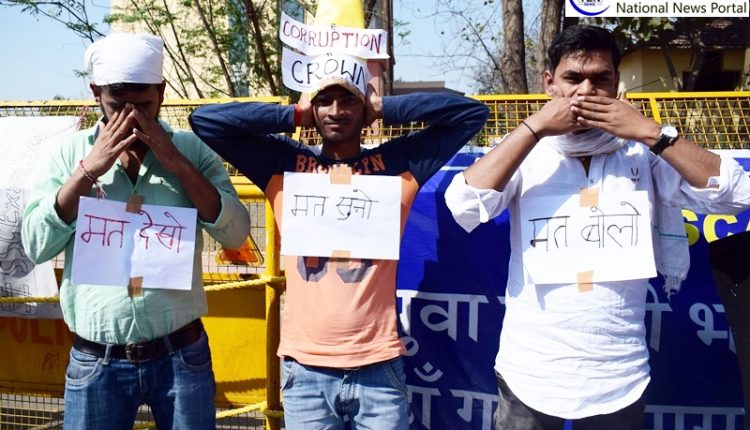 SSC Protest Day 15: Protests disguise as Gandhi's Monkeys to Highlight Highhandedness of Commission!
Prerit Chauhan (Photo/Video) By Lokesh Goswami Ten News Delhi :
New Delhi: After Supreme Court asked the Center to file its response on a lawyer's plea seeking probe into the alleged leak of Staff Selection Commission (SSC) question papers leak scam, the protest of students at CGO Complex continues unnerved. The SSC Protest has entered it's Fifteenth day. The SSC Students Protested in unique way by posing as what they claim to be SSC's Three monkeys who are corrupt, can't Speak, See and Listen the Protesting students voice, hence comparing them with Gandhi's three wise monkeys.
The candidates began protesting days after the Staff Selection Commission said it would conduct a re-test for those who took the Combined Graduate-Level Examination on February 21. Citing "technical reasons", the SSC made the announcement on February 24 and scheduled the re-examination for March 9.
On The Other Hand SSC chairman Ashim Khurana, said the protesters are trying to put "impediments" in the recruitment process of the SSC with the "ulterior objective of defaming the commission". He added that it is a matter of satisfaction that the Centre has accepted the recommendation of the commission to conduct a CBI probe into allegations made by the protesting candidates.
Speaking to Ten News on the Fifteenth Day of the SSC Protest,Students Said, "SSC had earlier cancelled the exam held on February 21 on technical grounds and rescheduled it for March 9. But some of the candidates are not keen on writing the test again. "What is the point? We will work hard again but eventually malpractices in the examination system will triumph. we don't want politics, we are here only because our parents' money and our hard work is at stake. All we want is justice. Whosoever is responsible for the cheating scam, must be held accountable with appropriate punishment."