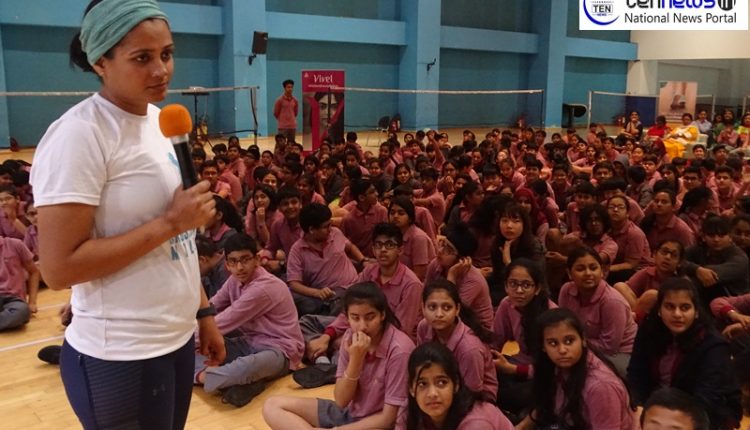 *Students interact with humanitarian Srishti Bakshi on the theme 'Be the Changemaker' at the 12th edition "Genesis Conversations '18"*
ROHIT SHARMA / ASHISH KEDIA
(27/02/18) NOIDA:–
Genesis Global School, a premier day-cum-residential school in Noida, recently organised the 12th edition of "Genesis Conversation 2018" for its scholars. The theme for this edition was "Be the Changemaker". The guest speaker on the occasion was Srishti Bakshi, who has launched a project for 'Women Safety and Empowerment through Digital and Financial Literacy'. Shrishti Bakshi addressed the students with a motivational speech, sharing her experiences and emphasising on becoming the agents of change for the society and its betterment.
Shrishti Bakshi has been selected as a Champion for Change 2017, by the United Nation's 'Empower Women Initiative'. The United Nations Women and the National Commission for Women are officially supporting her ,Project Crossbow. Srishti is collecting one billion steps from the Nation, towards a country safe for women. It aims to engage citizens of India in a digital movement through a mobile application called Crossbow Miles.
Genesis Conversations is an interactive platform where scholars meet eminent personalities from various fields like sports, arts, academics, etc. the one on one interaction gives our scholars a chance to air their doubts and ask questions directly to the mentioned expert.
On the occasion, Pramod Sharma, Director, Genesis Global School said, "Holistic Education at GGS includes exposing our scholars to different thought processes, different initiatives and to the different milestones being achieved by young leaders today. We are confident that Srishti Bakshi's extraordinary effort would encourage our scholars to think out of the box and be change makers themselves."
On the occasion Srishti Bakshi said, "It is heartening to see such awareness driven initiatives taken by Genesis Global School. Such programmes are a step towards creating an environment of awareness and well-informed youth of the world".