Supertech Ecociti Noida residents resort to candle march against stray dog menace, demand basic right of safety inside housing complex
Vishnu Saini (Citizen Reporter)
While the stray animal menace tops the civic woes of residents across the city, residents of residential complexes in Noida also are no stranger to the problem. In fact, the housing societies are facing bigger problems than the open sectors as the stray dogs find easy shelter in basements, it is not a strange fact that the number of cases of attacks by dogs have gone up in housing societies and despite repeated complaints, the Noida Authority refuses to even acknowledge the scenario.
"We have been continuously holding meetings in the society campus against the nuisance being created by street dogs. We have knocked the doors of the Builder and Authority to take this matter seriously., but action is still awaited from them", said Rajkumar Sharma, a resident of Spertech Ecociti 137.
"Every sector has about 20 stray dogs. This number should be checked. They are increasing in numbers as the Authority is not paying any attention on sterilization and vaccination. A bitch gave birth to six puppies in march this year and now we have increased numbers of dogs in the society" confirms Vishnu Saini, a resident of Ecociti.
According to the chief veterinary officer (CVO) of Gautam Budh Nagar, routine sterilization of stray dogs is very important in all urban and rural areas to control their burgeoning population. Also, it calms them down and prevents them from getting violent with other dogs and humans.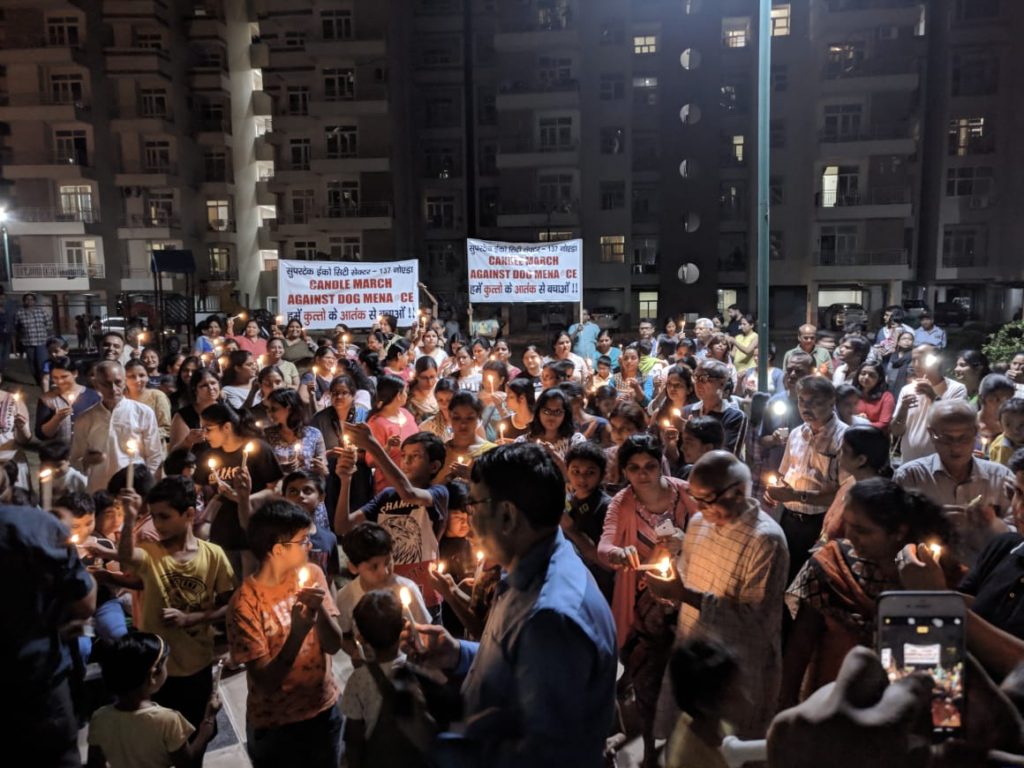 In housing societies the problem has escalated due to many issues, including a conducive infrastructure for such mammals to thrive.
One of the worst effected society is Supertech Ecociti, Sector 137 , Noida where this menace has disgruntled all, making them come out with candles to demand safety and security.
On Wednesday evening, hundreds of Ecociti residents came out of their homes to press for the basic human right demand- a safe living.
The dogs have become furious and they are always in search of food inside the basement. They run after the cars in basement to look for food and in turn attack the driver /kids coming out of vehicle, if they find anything in their hand.
"We can not go to basement with kids and with food items in hand', says Om Dutt Sharma from this housing society in Sector 137, Noida.
On other hand few dog lovers feed these strays in basement thus, inviting them to stay in basement fotever and also contributing to invite more strays into such basement.
Elaborating further on the issue another resident, Deepak Pandey adds, "We lodged complaints about it. According to the police, they are just helpless as when some residents register a complaint about the nuisance, some dog lovers cross register another FIR."
As the law enforcement and concerned authority has failed to resolve the issue and is allegedly not listening to complaints, residents had no other option then to do a protest march.
All residents came together and did a candle march in the society on Wednesday, September 19. There demand was to get them free from these violent animals. Is safety at your home place, inside the walled localities becoming the new luxury? We hope not!