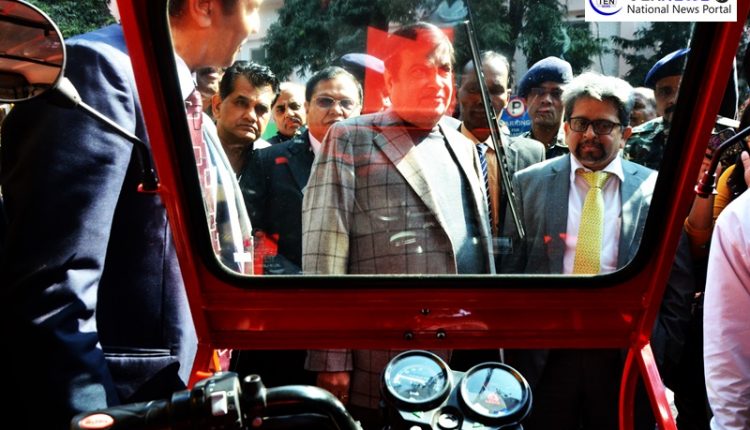 KASHIF HASNAIN (PHOTO/VIDEO BY SAURABH SHRIVASTAVA)
New Delhi: Since the idea of electric or battery vehicles mooted in India, the biggest challenge the Government has been facing is to provide adequate charging points on every nook and corner of the country. Slowly but steadily, now, the government is moving towards it.
In this row, three leading Electric Vehicle (EV) charging companies — ABB India Limited, Chargepoint and Exicom (Indian company), who were mostly active in US and European countries, installed their charging points at the NITI Aayog premises on Thursday in Delhi.
Moreover, the automobile companies which were swiftly shifting towards battery and electric cars, such as Tata, Suzuki, Lohiya, Nissan and so on also showcased their newly introduced battery in-build cars, buses, loading vehicles at the inaugural event.
These charging points are available for all and free of cost. The charging stations can charge a normal vehicle between 20 to 90 minutes.
To know the about the services and future of the charging stations, Ten News talked to all three EV charging companies and EV manufactures.

Dines Kumar Kori, the director of the Chargepoint – which claimed to be the biggest charging station company in the USA said, "I must appreciate the ambitious move of Government of India for promoting electric vehicles which will also ease off the pollution level in the country. Our company offers three kinds of chargers facilities — Home charging, Level 2 Charging and Express DC Fast Charging. We have opened our first charging station today in the national capital but we have long way to go in years to come."

Exicom – the only EV charging company of India shared their views with the Ten News. The Deputy Manager of the company, Kushaga Mittal said that as we all know the future of mobility is battery / electric, so, the charging stations are as important as petrol pumps. "We have already installed around 100 charging stations in several cities and planning to install more in upcoming days. We are pioneer of EV charging stations in India and provide excellent services."

In addition to that, Sanjeev Sharma, Managing Director of ABB India Limited, who claimed to have provide EV services in around 100 countries welcomed the move. "Our company provides best EV services across the globe. And I'm looking forward to serve in India."

Later, the Sales and Services manager of Lohiya Auto Industries, Nikhil Kumar, who manufactures electric / battery based vehicles claimed it a milestone move. "Providing adequate infrastructure and charging stations for the electric vehicles were the biggest challenge for the government if they wish to promote electric vehicle but with this small step, we are moving towards the goal. We are hoping for the best."