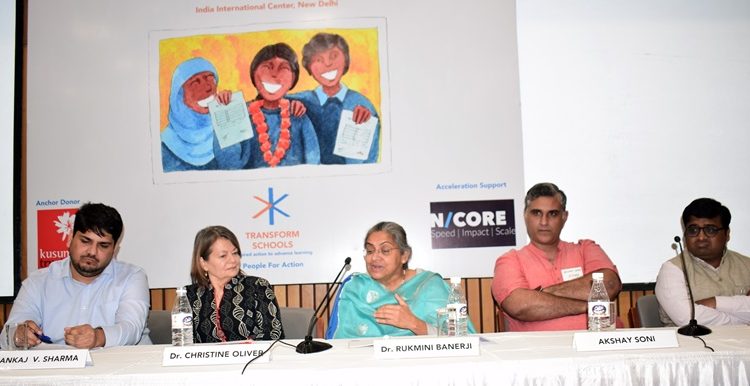 Target is to Improve Education for 6.5 Million Children in India by 2021 : Team 'Transform Schools' at Educational Session in Delhi
Vishal Malhotra (Photo-Video) Lokesh Goswami Tennews New Delhi :
New Delhi (12/11/2019): "Transform Schools", an initiative of People For Action (PFA) is a non-profit organization committed to improve the quality of education in elementary and secondary government schools in India. Nearly 83.6 million (UDISE 2016-17) children from low-income households rely on these schools for education and future life opportunities.
Since its inception in January 2019, Transform Schools has rapidly scaled its models to reach 2.4 million children in 67,833 schools, across 4 States of Odisha, Chhattisgarh, Haryana and Himachal Pradesh, working with State governments and key stakeholders associated with Samagra Shiksha Abhiyaan.
Today, Transform Schools and its supporters came together in the National Capital to share the work done by the organisation, discuss initial results of the pilot study conducted by J-PAL, South Asia to study the effectiveness of Transform Schools' learning programme and to call stakeholders to action to tackle the learning crisis in India, at scale.
The findings from J-PAL and other independent research show the following results:
• Speedy learning: The average effect of participation in Transform-Learning is equivalent to up to 2.5 years of typical progress in school
• Impact on learning levels: 5 of 10 students jump one level of learning (Class 3, Class 5, Class 8) from baseline and 3 of 10 students attain grade appropriate learning levels.
• Increased Teaching Proficiency: Almost 82% of teachers rated as learners, moved up to the proficient level and 21% of teachers rated as proficient, moved up to the expert level
• Better School Management Practices: Out of the 1,285 schools that participated in the 'Transform Schools' programme, 78% developed annual plans for schools for the first time.
• Improved School Standards: The programme intervention increased the number of governors with correct knowledge of school standards from 36% to 72%.
"We launched Transform Schools just 11 months ago, and we are delighted by the enthusiastic response received from teachers, head teachers and government officials", said Pankaj Vinayak Sharma, Executive Director, Transform Schools.
Sharing her experience with Transform Schools, Reasearch Head of Kusuma Trust, Dr. Christine Oliver said, "India is projected to have the largest workforce in the world by 2027. Access to quality and equitable education is important towards the preparation of a productive workforce and we aim to contribute significantly towards meeting this goal. We are already impacting 2.4 million children in 67,833 government secondary schools. We now aim to impact learning levels of 6.5 million children by 2021. Of the total number of students reached, we aim to empower 3.6 ninon students to improve their learning levels, 2.6 million students to attain Class appropriate learning cz levels and 217,000 teachers to become proficient and effective."