New Delhi: Volunteers of the non-profitable organization "Being Social" approach the slum area in 7 important cities of India every Saturday and Sunday in order to provide proper education and outlook to the path for their successful future. The organization is working for the betterment of children living in slum area across India.
According to the UN, the share of urban Indians living in slums is 24%—about 100 million people. Indian government, in an attempt to rectify this situation, has made it a policy to give land to slum dwellers—not in the more central areas of cities where the slums tend to be, but on the urban outskirts.
There are thousands of NGOs working in order to change the living of these children spending their lives living in slum area.
'Being Social' has been working from last 3 years with an active participation in seven major cities of India; Delhi, Delhi-NCR, Bangalore, Pune, Patna, Mumbai, Jaipur, Chandigarh and Ludhiana. All these major cities hold active Being Social volunteers who are busy in their respective jobs and businesses and are devoting their Saturdays and Sundays for teaching these children because their families are not capable to afford tution fees and school dresses.
Although, there are hundreds of government schools providing free education to children whose families are not capable to send them to schools but non-profit organizations like Being Social has pledged to provide proper education to children living in slum areas. They aren't just making them prepared for mental fitness but are also focusing to boost physical fitness of these children by involving them in various sports activities and co-curricular activites like dancing, singing and much more.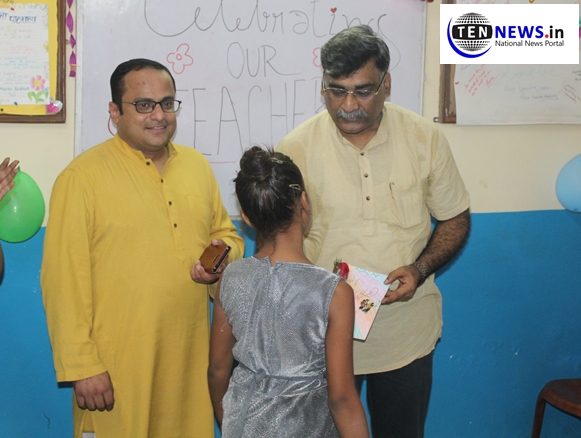 Today, 3 days after Teachers' Day in India, Being Social organised a special gathering for these children near Kaushambi, Ghaziabad.
Children here performed various dance and musical performances and gifted Being Social's volunteers, gift cards made by hand!
Jiten Modi, one of the volunteer discussed the importance of education at this Teachers' Day celebration at Kala Pathshala in Kaushambi.
Gajanan Mali, Founder of Ten News DigiNet also delivered a speech focusing on the importance of teachers in everyone's life. He said that "we should always know that our first teacher is always our mother!"
Volunteers at Being Social believe in promoting individual social responsibility and they consistently attempt to unite citizens to volunteer for the welfare of the society. They believe that if each one of them does their small bit of service, they can make massive impact at a larger extent and help in the progress of society. 'Being Social' believe in consistency, teamwork, equality & transparency. There motto is simple, to 'Spread Smiles and Serve Humanity', something they sincerely believe in and always try to achieve.