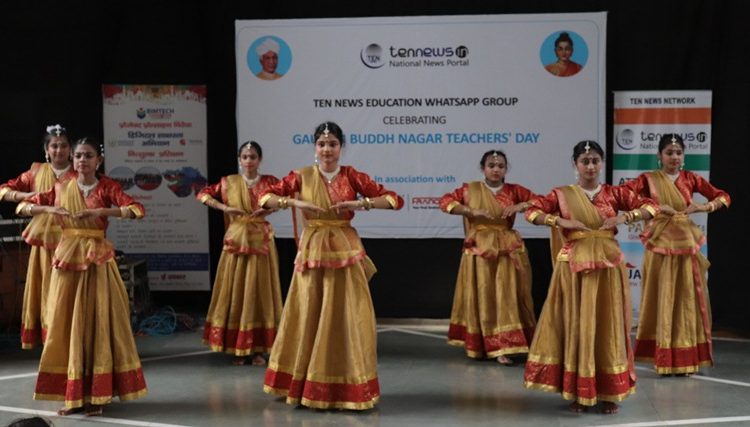 Teachers Day Celebration : Ten News felicitates educationalists from the district, dance, music and speeches make morning memorable!
ROHIT SHARMA
Greater Noida :– Sunday, 2nd of September witnessed an amazing blend of educationalists, students, social workers, parents and members from different sections of society all gathered together to honor the efforts and contributions of the eminent "Teachers".
The day witnessed dance, music, songs, speeches and felicitation. The event was organized Ten News Education Watsapp Group along with Franciscan Solutions Pvt. Ltd, Navratan Foundation and BIMTECH, Greater Noida. Delivering his welcome address, Founder of Ten News, Gajanan Mali in his address said, "It is our pleasure that eminent teachers and professors are present here on this occasion. Teachers add light to lives of millions and bring a change in the society. There contribution can not be fully described in words.'
Dr Anupam Verma, Deputy Director BIMTECH welcomed the guests and spoke about the significance of the occasion, "It is a honour for us to host this esteemed gathering. Teachers day is being celebrated on 5th of September since 1962. Dr. Radhakrishnan was a great teacher, philosopher and was admired for his personality by one and all. When his students wanted to celebrate his birthday with vigour and zeal, he only directed them to not to celebrate it as his birthday but in some other way. Hence it was decided to mark it as Teachers day. Teachers have always been a part of our lives since time immemorial. They have been significant to our culture and traditions".
The morning also witnessed motivational speeches by eminent personalities.
Jamil Ahmed, Director General of Sarvottam Institute of Technology and Management inspired the students and teachers with his inspirational words.
He said, "Practice, practice and practice because it will provide you with popularity, peace, prosperity. However this art can only be taught by a teacher and professor. It is teacher who expects nothing more than respect and honor and dedicates his life for the well being of his disciples. It is only the teacher who can teach you to convert gift of problems into an opportunity. We should start loving teachers and our school and should not unnecessarily criticize it".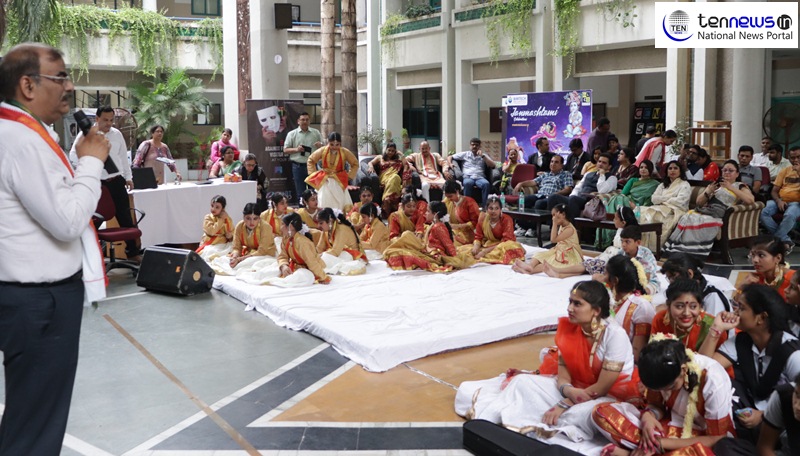 Special kids from Corner stone school children mesmerized everyone with a beautiful song and skit presentation.
Former DM of Gautam Buddh Nagar and senior IAS NP Singh said, "Nature creates a uniqueness in all its habitats. When we try to not to identify that unique ability but want to mold everyone in one way, we are doing it wrong.
Education is a vast field. It is relevant only when it gives us power and ability to face the challenges and empowers us to fight."
He also said that it is important that our education is able to do capacity building and create an individual's identity.
He also spoke about the incident from Mahabharata and talked about its utility in modern day and said, "The balance between conscious and sub conscious mind is very important to build an individual if strong character. To make a valuable asset for the society it is important that right direction and projection is given to students at very small age. Modulation of the waves start from the womb itself as being claimed by research of neuro physicist and biologist."
Teacher turned politician, Dadri MLA Tejpal Nagar also sat through the whole event and appreciated various performances. In his address he said, "I am still a principal of an Inter College and this is what I identify myself as. I can now be a legislator but since beginning I have been a teacher and that is most close to my heart."
He also gave call to teachers to contribute with their best abilities in nation building and prepare a generation that is full of nationalism and skills to make India proud.
YEA OSD Shailendra Bhatia recalled his student days and shared a memoir from those times to insist on importance of primary education.
He said, "I once had to face lot of problem while solving a math sum. My then teacher once called me in private and lovingly taught the nuances of the particular sum. Thereafter I scored cent percent in high school."
Speaking further he added, "Only your parents and teachers are the one's who guide you to do good things or not to indulge in bad things. Friendships are not permanent and we should not underestimate the intentions of our parents who try to guide us on right path."
He also advised students to avoid indulging much into unnecessary stuff and said, "We spend a lot of time in watching TV. The sources of entertainment have increased and instead of doing our important stuff we are waiting time in unnecessary stuff."
At the end Ranu Francis, Managing Director, Franciscan Solutions Pvt. Ltd, talked about student- teacher relationship and emphasized on the safety and security of students to be one of the most important priority of the schools and parents.
The whole event was beautifully choreographed by Ashok Shrivastava of Navaratan Foundation.
Also present during the occassion were Aditya Ghildiyal, Dr. Kuldeep Malik, Dr Sushma, Dr. Kcalpana Bhushan, Suneel Dwivedi, Reema De, Alok Singh, Sumita Vaid among others.
Photo Highlight Of Ten News Teachers Day Celebrations at BIMTECH Greater Noida
Video Highlight Of Ten News Teachers Day Celebrations at BIMTECH Greater Noida