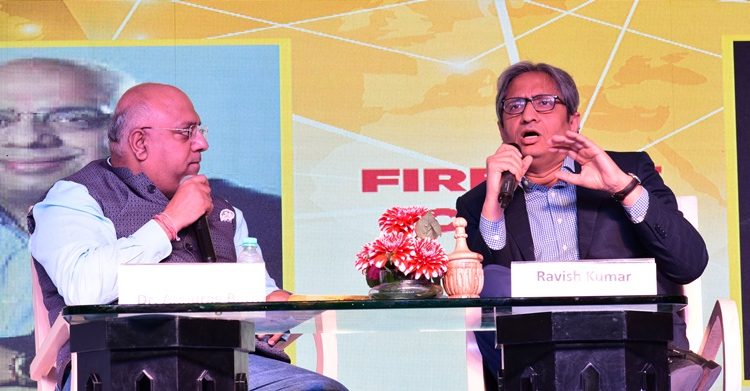 Ten News Exclusive with Ravish Kumar on Pulwama Attack and State of Indian Media
Vishal Malhotra (Photo/Video) By Lokesh Goswami Ten News Delhi :

Fireside chat with Ravish Kumar : Says, TV Anchors in India are working with no crucial moto!



Noida : Today at the News Next Conference 2019, NDTV's Senior Executive Director Ravish Kumar along with Chairman, Business World Anurag Batra discussed how Indian Media has changed.
Ravish Kumar started the session with talking about issue that News Anchors have now become spokespersons !
Commenting on the statement given by one of previous discussion's guests, Ravish Kumar said,
"I and all of us knows it very well that who and which channel belongs to which party which is crystal clear by the news headlines of various channels. People says confidently that they are unbiased because they are trained for passing on the fake. I say that being a spokesperson is not a bad but the choices which TV anchors are making are not fair rather than being someone's spokesperson one should be the spokesperson of the common people."
"You can easily notice the difference between different news stories and my material. This is all because I always conduct a research which I believe is necessary if you are gonna pass on this to audience", he added.
Ravish Kumar speaking at the session said,
"I read and share. Back in my school time, I used to read and share with my friends. I used to read books in one single night and then sing the summary of the book in front of my friends the other day."
"Initially when I used to listen to my senior anchors, I always had a thought that how can they have their lunch in IHC at 2:30 PM, addressing a book launch session at 7:00 PM and reading their scripts in front of camera at 9:00 PM, how's this even possible? I then started realising that these all anchors are so pissed off with their job and why won't they be if they only have to go for 20 interviews at the doorstep of any renowned politician?" added Ravish Kumar making fun of present schedule of almost all TV anchors.
When asked by Ten News about the current situation of Indian Media, Ravish Kumar said,
"Now days when my neighbours or friends ask me for any suggestion regarding their children's future studies, I always say that if you want them to become a TV anchor, do show him how it works out in India. As today, you talk about any news anchor, believe or not somewhere and somehow he/she is walking on a path which has no end and is constructed by some political disease."
Commenting on the Pulwama tragedy he said, "Before this tragedy happened, a political party was shouting that how they have changed the fallen Kashmir into a peaceful place and today, after this tragedy they are all silent. It is never what we see and listen but we have to dig out the truth and question the main faces who are behind this blunder happened in Kashmir !"