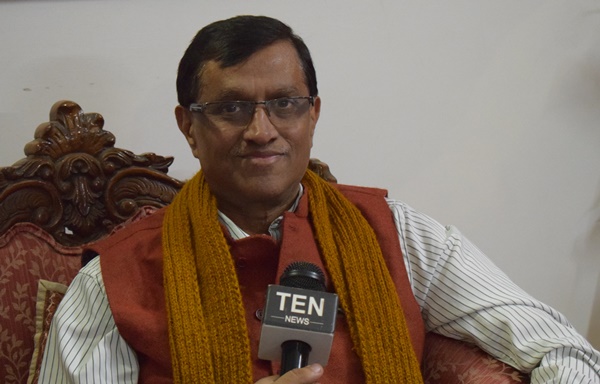 New Delhi:(25/12/18) Dnyaneshwar Mulay, Secretary, Ministry of External Affairs holding the charge of Consular, Passport and Visa and Overseas Indian Affairs is presently one of the senior most senior bureaucrats in the country and has also served on various key positions, inside and outside the country.
His story is one of struggles and hard work blended with impeccable passion, which made him achieve this position.
In an Exclusive Interaction with Ten News, Mulay opened up about his journey from a small time village in Maharashtra to now at the heart of India's external affairs ministry.
Mulay has also worked extensively to make passport facilities accessible to all the citizens and has earned the moniker of passport man of India. Upon being asked about the same, he said, "I am very very happy if people recognize me as the 'Passport Man' of India. However I would like to credit this to my Minister Sushma Swaraj and the entire team that I have got because about 2000 people are working across the country issuing 70,000 passports every day. We also issue 250,000 SMS every day and our website have a hit about 20 Million that is 2 crore everyday."
While Talking about the his Journey, from someone who didn't had a footwear to wear till 4th standard of school education , to being the consular general of India, MEA Secy said,
"This is not my journey alone I think this is the journey of independent India and democracy which gave us the opportunity to educate ourselves. Ours was the first generation to go to school at least in my family, ours was the first generation and because our school was in the village, there were good teachers and they also deserve a lot of credit. From almost you can say from very rural background to the highest positions in the government of India, this is been a long journey but very challenging, very fascinating and interesting journey with lots of up and downs."
Talking about the eventful journey of Indian passport domain through its several phases, fast expanding networks of passport seva Kendra's, ever-growing numbers, He said, "I think we have done a lot of work in last 3-4 years and because i said our Minister was keen that we must expand the passport. And it should go to the last person whether it is rural villages, whether it in tribal areas. So we decided to fight this particular difficulty and challenge."
When asked about how much time a passport should usually take now to reach the applicant, he said,
"I would say if its renewal it should not take more than 72 hours. If it's a new passport and if you have three documents, Aadhaar Card, Election Card & Pan Card, if you have these three documents you should get it without police verification in 2- 3days so that's a revolution."
Talking about the plans of Ministry of External Affairs for further Expansion if Passport services in India he further added, "We would like to see that every lok sabha constituency has a passport Office.what it really means is, People not have to travel more than 40-50 Kms to get their passport."
Mulay's next key responsibly is to oversee the successful organization of Pravasi Bharatiya Divas (PBD) which is a celebratory day observed by the Republic of India to mark the contribution of the overseas Indian community towards the development of India.
Traditionally it is celebrated on 9th January to mark the return of Mahatma Gandhi from South Africa but this year, owing to some factors the dates have been changed a little.
Sharing details of the much awaited event, Mulay said, "Traditionally Pravasi Bharatiya Diwas convention is being held from January 7-9th. 7th jan is the day of return of Mahatma Gandhi from South Africa to India. He was the most well known Pravasi of India but he was a Pravasi who went and came back, so it's symbolic about going abroad to earn, learn but return. Return in the service of Nation, that was the message of PBD. This year as there is kumbh in January and there are lot of Indians abroad who wrote to us saying that well if it's kumbh, we would also like to see that Pravasi Bharatiya Divas and Kumbh Together and if these are two together, we can also see the republic day parade in Delhi," added Mulay while sharing details of the plans.
On 23rd January, 2019, the Valedictory Address will be delivered and Pravasi Bharatiya Samman Awards will be conferred by President, Ram Nath Kovind.
On 21st January, 2019, the inauguration of the Youth Pravasi Bharatiya Divas will be held in partnership with Ministry of Youth affairs and Sports. Government of Uttar Pradesh will also organize the State PBD – 2019 on 21st January, 2019. On 22nd January, 2019, Prime Minister Narendra Modi will inaugurate the Pravasi Bharatiya Divas Convention.
After the Convention, participants would be given the opportunity to visit Prayagraj for Kumbh Mela on 24th January, 2019 and witness the Republic Day Parade at New Delhi on 26th January 2019.