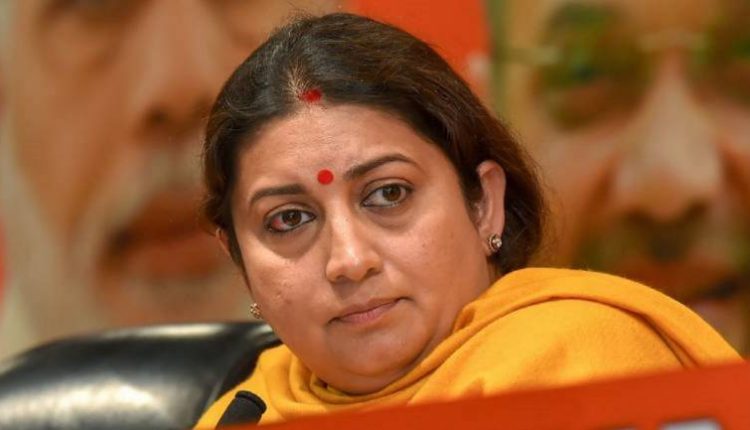 Textiles Minister Smriti Zubin Irani urges International buying community to retain export orders
New Delhi, 26th March, 2020: Union Minister of Textiles Smriti Zubin Irani, in a video message appealed to overseas buying community and their representatives in India on behalf of the 7 million craftspersons spread across craft clusters in India and 20,000 exporters who are part of the Export Promotion Council for Handicrafts (EPCH) and Carpet Export Promotion Council (CEPC), to not to cancel any order and assured that EPCH and CEPC will be working with them as her Ministry is working with both the council's to ensure no one is left behind at this time of crisis and all possible measures will be undertaken to stimulate growth in future.
The Minister also said that Prime Minister of India have announced many measures to protect the rights and wages of the working fraternity and this is time for those who have enjoyed and commercialized the beauty of Indian crafts  to step up.
Rakesh Kumar, Director General EPCH said that "Handicrafts sector is facing a very serious economic crisis due to outbreak of COVID-19 since it has compounded the exporters problems. On one hand they are grappling with the state of lock down in the country, stoppage of production schedules, payment of wages and overhead expenses and on the other hand their buyers are renegotiating the business terms with them."
Kumar, adding further, said that "Looking at this grim situation, EPCH submitted a representation to PM of India, Ministry of Finance, Ministry of Textiles and Ministry of Commerce & Industry to support the handicrafts sector by announcing a special package for the sector. The Buying Agents Association and also the large buyers have also given assurance to the exporting fraternity that the overseas buyers will continue their business as usual and will refrain from cancelling the orders."
While welcoming the announcement made by Nirmala Sitharaman, Union Minister of Finance on EPF contribution of 12% each of the employer and of the employee for the next three months to be borne by the Government for establishments that have up to 100 employees, Kumar said that this measure will certainly help the handicrafts sector and hoped that many more such measures will be announced by the Government soon to stimulate growth in the handicrafts sector.
Christine Rai, Chairperson of the Buying Agents Association, while sharing her views on the impact of Coronavirus crisis on the sector, said, that the Association has also appealed to all stakeholders to be considerate and compassionate before taking any decision on orders and to think about many livelihoods which are at stake. Adding further, she said it is high time that everyone should step forward to help the millions of artisans and workers who are engaged in embroidery, apparel, hand carving, carpet weaving, metal working, glass blowing and handloom textiles so that they can continue producing the "magic of the gifted hands".