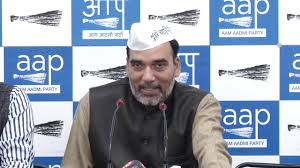 New Delhi, (17/3/2019): The AAP has already set its agenda of fighting the upcoming elections on the issue of full statehood to Delhi. Again and again AAP leaders are raising their voices to make Delhi a full state.
Today, Gopal Rai, AAP Cabinet Minister, organized a press conference about the statement given by DPCC President, Sheila Dikshit and BJP Delhi President, Manoj Tiwari.
In the press conference Gopal Rai said, "that after listening to the statement given by Sheila Dikshit, we are sure that there is a lobby in Congress party which supports BJP. Congress party knows very well that they will not gonna win any seats in the upcoming elections. So they are trying to make the BJP win. When all of the country is united to defeat the dictatorship of PM Modi and Amit Shah, Congress is trying to help them for their own benefit. The alliance between the Congress and BJP is out in the open now".
Three days earlier on 14th March, DPCC President Sheila Dikshit in an interview said, "It has to be agreed that Manmohan Singh was not as strong and determined in dealing with terrorism as the current Prime Minister is".
While talking about the statement of Manoj Tiwari, Gopal Rai said, "Manoj Tiwari said, that Delhi will not get its Full statehood because of the protest staged by AAP chief Arvind Kejriwal in 2014. So i want to ask him that Kejriwal protested in January and BJP made government in May, how it affects your manifesto in which it is said that BJP will make Delhi a full state".
And also the comment of Manoj Tiwari that says "that Supreme Court has denied to make Delhi a full state. I want to ask him that which party appealed to the Supreme Court to which it had denied to give full statehood to Delhi. BJP has not put any efforts to make Delhi a full state. AAP party will surely make Delhi a full state".