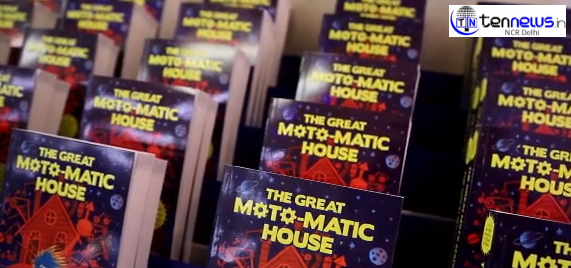 New Delhi : Author Brijesh Luthra hosted a panel discussion on "Relevance of science fiction as a genre for children" at Oxford Bookstore yesterday at the launch of his debut work of fiction for kids, THE GREAT MOTO-MATIC HOUSE. The book is a work of ascience fiction / humour book robot that marks the start of a series describing the adventures of a ten-and-a-half-year-old boy, who likes to go by the name Ziptux and his friend Dibbly, the most advanced in the universe.

Preetika Mathew, Content Director, Lifestyle Asia, and Lushin Dubey, the renowned stage actor and Harpreet Suri, founder of MomWearsPrada participated in the panel discussion moderated by Pritika Mathews. The panel also discussed topics like state of children's literature in India and books as a subject for theatre.
At the launch, author Brijesh interacted with an audience of parents and children from school book & science clubs, keen on space travel, robots, fantasy & a desire to undertake spectacular adventures with their friends. The author also announced an exciting national fiction writing competition for children, whose winning entries will be published as a book.
In this book "The Great Moto Matic House" – In this, Ziptux wants to make machines to do tasks he doesn't like (undoubtedly a fantasy of every child). And Dibbly knows just where to get the parts from – the best DIY store in the universe, which happens to be only a few trillion light years away. But Earth's stupidest inventor gets in the way and does something that can destroy the universe. Ziptux has to find a way to stop him. And only in one night.