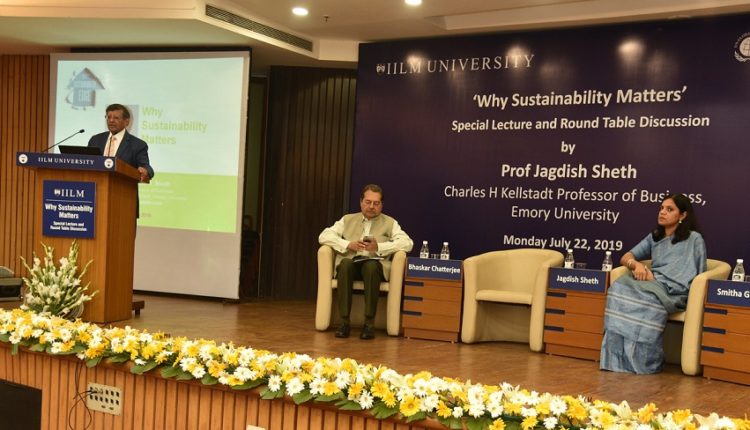 The launch of IILM'S Executive MBA in CSR, Sustainability and Innovation for PSUs and Professor Jagdish Sheth's lecture on 'Why Sustainability Matters'
At the launch of IILM's Executive MBA for PSUs in CSR, Sustainability and Innovation in collaboration with Sheth Center for Innovative Leadership,  Professor Jagdish Sheth, Professor at Goizueta Business School, Emory University, USA, delivered a lecture on 'Why Sustainability Matters' and  chaired a Round Table Discussion at an event organized by IILM at India International Centre.
Taking forward its vision to educate and develop innovative, entrepreneurial and responsible business leaders, IILM, in collaboration with Sheth Centre for Innovative Leadership (SCIL), is offering an Executive MBA in CSR, Sustainability and Innovation which is designed in consultation with United Nations Global Compact, industry experts and some of the world's leading professionals from the area. Designed for working executives and public sector managers to enhance their understanding of sustainability, innovation, government policies and latest management paradigms, the Executive MBA will give the participants a unique 360 degree understanding of how to develop and deploy practices which promote sustainability and innovation across the five core functions of an organization – Strategy, Finance, Marketing,   Human Resources Management and Operations.
Dr Bhaskar Chatterjee, who is widely acclaimed as the Father of Corporate Social Responsibility (CSR) in India and has been instrumental in framing and issuing the CSR guidelines for Public Sector Enterprises (PSEs) said, "India is poised at the cusp of Sustainable Development Movement and in keeping with that IILM has developed a unique curriculum which will help busy professionals get a degree in CSR, Sustainability and Innovation through online and interactive sessions on weekends."
The event to launch the Executive MBA with Prof Jagdish Sheth's lecture and a Round Table Discussion was attended by important guests from major PSUs and some Corporates in India such as NISG,   BHEL, IOCL, NTPC, Rural Electrification Power Distribution Company, STEM Alliance, National E-Governance, Power Grid Corporation of India, JSL Stainless Ltd, TATA  Steel Ltd., ONGC, IOCL,  MInda group of Industries, Indian Aviation Academy, Warehousing Development & Regulatory Authority and PHD Chamber. The PSUs were impressed to learn that IILM's Executive MBA course provides an attractive opportunity for enhancing the skill sets of CSR personal and that Rule 4(6) of rules under Section 135 of Company's Act 2013, allows CSR spend to be used on capacity building for executives of the company. This event therefore opened for them an opportunity for sending their executives for this unique Executive MBA programme.
Professor Jagdish Sheth's lecture on 'Why Sustainability Matters' at the event emphasized the importance of improving skills of executives in the area of CSR, Sustainability and Innovation. Known for his scholarly contributions in consumer behaviour, relationship marketing and related areas, Prof Sheth is the foremost, leading expert on consumer psychology and marketing with over 50 years of combined experience in teaching and research at the Universities of Southern California, Illinois, Columbia, MIT and Emory amongst others. Several world leaders including Former President Bill Clinton and Prime Minister Modi when he was the Chief Minister of Gujarat have been advised by him. Prof Sheth was also instrumental in setting up the first Indian Institute of Management (IIM) at Kolkata.
Professor Sheth in his lecture elaborated how the largest carbon footprint happens in homes in America because of refrigeration followed by Super Markets that also have high utilization of refrigeration. He said, "It is important for people to do Mindful Consumption and Sustainability should be mandatory."
Professor Jagdish Sheth made several significant points on the importance of sustainability in his lecture stating that ecological sustainability and shared value will be the next twin frontiers of competitive advantage as were quality and customer satisfaction in the 80's. He said, "The biggest show stopper will be neither the capital nor the technology. It will be the environment."
According to Professor Sheth Sustainability is a marketing problem, both internally and externally and a company needs to motivate and market to all of the stakeholders that includes doers, enablers, and supporters.
He said, "One needs to take a marketing approach by thinking of stakeholders as customers and shaping as well as exceeding their expectations."
Professor Jagdish Sheth's lecture was followed by a robust question and answer session after which representatives from PSUs were apprised in detail about the Executive MBA programme in CSR, Sustainability and Innovation for PSU's which is another key step forward in IILM's commitment towards providing quality education.