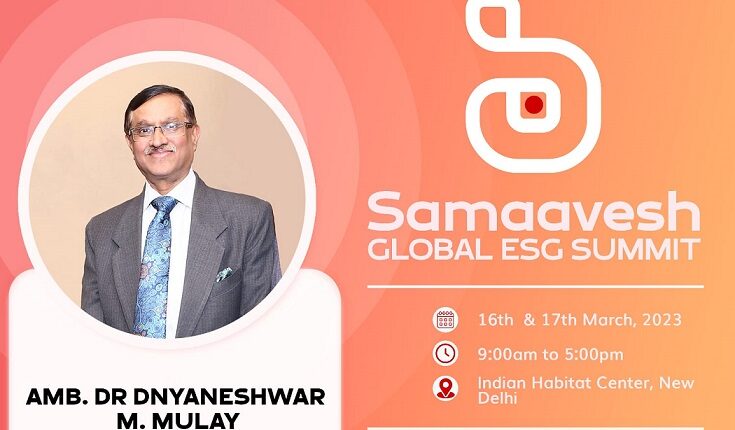 The Samaavesh Global ESG Summit Movement Of Positivity
TEN NEWS NETWORK

NEW DELHI (15/03/23) The Samaavesh Global ESG Summit Movement Of Positivity is being held at the Indian Habitat Centre (New Delhi) on 16-17 March bringing together stakeholders from CSOs, Corporates as well organizations to discuss how to imbue an ESG lens into social development programs.
This ESG summit is being held under the guidance of Ambassador Dr Dnyaneshwar Mulay, Member – NHRC who has started a Movement Of Positivity since 2019 bringing together people for the common good.
The program is jointly organized by the Council Of Royal Roots, Anantsheel Foundation and supported by Valveworks India Pvt ltd. Some of the prominent guests including Minister Shri Gajendra Shekhawat; Minister Shri Kaushal Kishore, Shri Indresh Kumar; Sadhvi Bhagawati Saraswati, Secretary-General, Global Interfaith WASH Alliance; Shri Jagannath Patil, Advisor – NAAC; Shri Achyuta Samanta, Founder, KIIT; Sukhman Randhawa, United Nations; Dr Swadesh Singh, Sous Sherpa, C20; Kshipra Shukla, Chairman, Uttar Pradesh Institute Of Design & Research; Anshu Khanna, Founder, Royal Fables (Nari Shakti Awardee); Gurucharan Das, Author & Former CEO, P&G India; Shri Ashok Motwani, Author Indus Waters Story; Sushri Kamlini & Nalini Asthana, Padam Shri, Safir Anand, Sr Partner & HOD, Anand & Anand and more.
The event shall feature 45+ speakers across 7 panel discussions and 2 special sessions, including participation from heads of CSR foundations, leading NGOs, and ministers in the current Government of India. The discussions shall be centred around various social issues, i.e., hunger, gender equity, education and skilling as well as overarching areas such as developing a vision for India's journey towards sustainable development and fostering partnerships from the same.
The convenor Positive Rishikumar, President – Movement of Positivity says, 'As we all celebrate India's 75th anniversary of independence and lead the G20 presidency under the leadership of our Prime Minister Shri Narendra Modi, we envision how we can build a better, more sustainable, and equitable future. We eagerly take on the responsibility of finding answers to the most pressing challenges of our time by forming meaningful partnerships with communities and stakeholders to work toward achieving UN SDG 2030 with an approach focused on environmental, social, and governance (ESG). It is clear to us that sustainable innovation and profitable growth are mutually dependent, so our intentional focus on collaboration and inclusion helps us better navigate challenges and grow our impact to deliver positive change for the world.
The event will see participation from leading organizations such as the National Assessment and Accreditation Council, Feeding India, United Nations, USAID, UNFPA, Plan India, Indigo, Shiv Nadar Foundation, Kalinga Institute of Social Sciences, Federation of Indian Weavers Association, NASSCOM Foundation, Zomato, Kalorex Group, among others, as well as organisations working in the last mile. There shall be a special section of the program dedicated to providing a space for NGOs to present their projects to a group of philanthropists as well as CSR foundations and seek funding support for new projects.