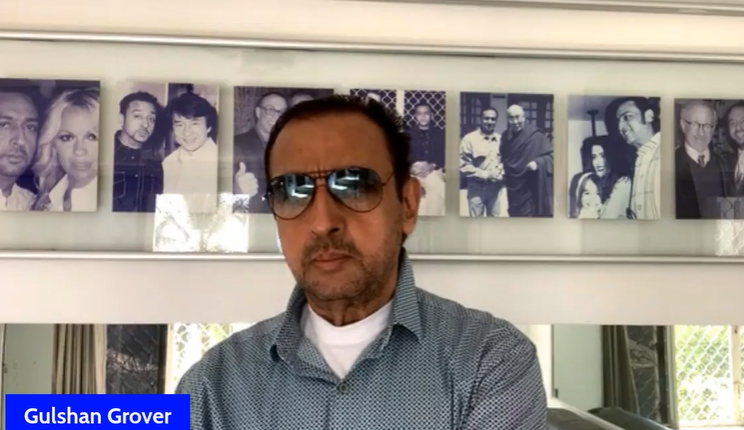 The bad man of the Indian film industry, Gulshan Grover, who has worked in over 400 films, in different languages, was the key guest of Ramita Taneja's recent show, Kya Baat Hai, on Ten News.
Anchoring the show, Life coach and counsellor, Ramita Taneja said, "It is heartbreaking to see so many people getting attracted to glitz and glamour of Mumbai film world. It is not as easy as it looks. Actors often work in unpredictable conditions with no surety of work for a longer period of time.
Unrealistic standard of beauty and fitness. Refine your craft with acting classes and workshops. Misconception that good looks make for great actors has been cleared times over as we see more and more normal looking people claiming the silver screen."
During the show, show host Ramita focused on the very important topic of aspiring actors not getting blinded by the "chaka-chondh" of the glamour industry but focus on making their craft better.
Speaking on the issues, Grover said, "I'm very happy that I had this opportunity to work in different films including films in Bollywood as well industries in Canada, French and South India. So, I had great opportunity to pursue my passion and learn along the way."
Touching on the issue, whether training helped him in his career, Grover said, "Training is what polishes an actor and I belive that even this clarity whether you are talented or not, also comes with proper training. My training at Sir Roshan Tania's acting school and towards the end of the training I realised that I'm talented. I am proud to have been trained by the best. Exemplary actors like Jaya Bachchan, Shabana Azmi, Mithun Chakraborty etc, they were also trained by Roshan Taneja ji. When these people started their career, many people taunted them that acting can't be taught but when they worked, there performance shocked everyone. It made everyone believe that proper training does wonders for actors."
Outlining that learning never stops, Grover added, "One discovers his or her own talent when they go to the right acting school. You might have a feeling before it but the clarity and confidence comes with time".
So, does looks and personality play a key role in becoming an actor, Grover said, "It has to be a combination of everything. In earlier times, whenever anyone wanted to become a hero, there were certain specified notions that people had in their mind about a conventional look. Having personality or good look is not a disadvantage but you also need training and talent along with it".
Was he typecast in certain type of role? Replying to it very honestly, Grover said, " In real world there is a recall value of different things and different people. I wanted to create a brand out of bad man. I left many roles for it. So I made such adjustments, I worked on my image and it was a conscious decision. Filmmakers didn't force it on me".
Talking of his future outings on the silver screen, he said, "I have five films releasing this year including Sooryavnshi, where I am playing the main protagonist. There is also Bombay Saga, where I'm playing a bad man of different kind. Then there is also film Cash and more too."