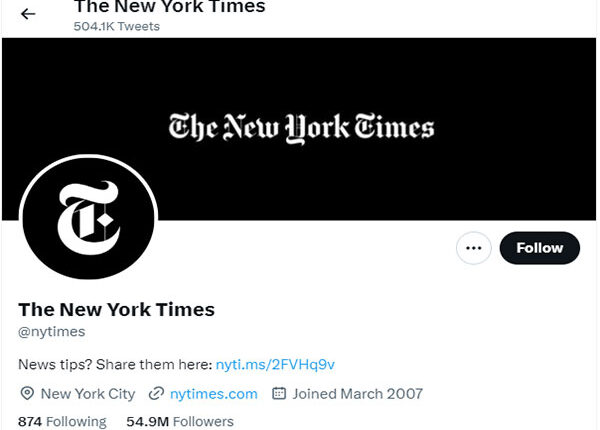 Twitter Removes New York Times Verification tick as it fails to Pay Fee
Ten News Network
New Delhi (India), 2nd April 2023: The New York Times' main profile's blue "verified" tick has been removed by Twitter after the news organisation declared it would not participate in Elon Musk's new programme of for-profit paid verification.

The outlet's Twitter website revealed on Sunday that it was no longer verified, with the blue tick gone and the gold tick that Twitter has begun implementing for "official organisations" not in its place.
The modifications made by Mr. Musk to Twitter's verification system have drawn criticism for making it easier for imposters to disseminate false information on the platform by simply paying for the verification.
The NYT would not be paying for verification, according to a spokesperson, CNN reporter Oliver Darcy revealed earlier this week. The spokesperson said, "We aren't planning to pay the monthly fee for verification of our institutional Twitter accounts."
He first added, "We also will not reimburse reporters for the verification of personal accounts…except in rare instances where verified status would be essential for reporting purposes."
Under the new Twitter Blue subscription, will cost $11 per month for a variety of new tools like longer tweets, the ability to edit posts, higher weighting in the prioritisation algorithm, and blue ticks. Organizations and companies can also apply for a new "gold" tick.