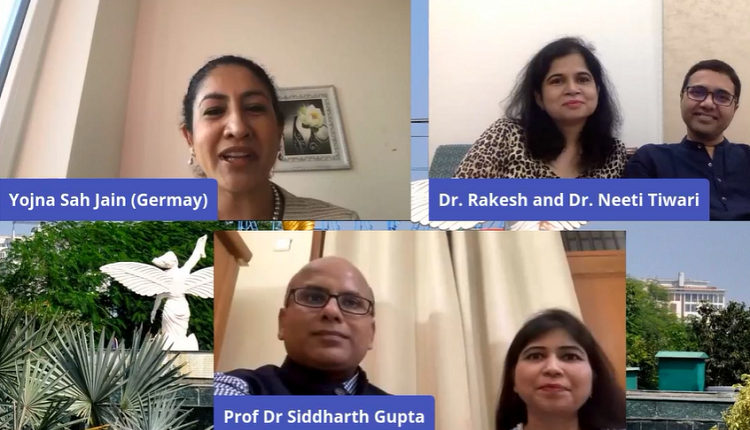 Two Doctor couples share their day to day life in Yojna's Candid Talk Show
20th September: On Saturday, Yojana Jain, an entrepreneur and writer based in Germany hosted the 6th episode of her flagship show – "Yojna's Candid Talk Show" on Ten News Live.
The theme of this episode was – "Life of doctor couples". Two doctor couples were invited as a guest for the show. The first doctor couple being Dr. Rakesh Tiwari, Paediatrician, Gurgaon and Dr. Neeti Tiwari, Gynaecologist and Obstetrician, with specialisation in Infertility management and IVF.
The second doctor couple on the show was Prof Dr Siddharth Gupta, MDS, MBA – FMS and Dr. Nitasha Gupta, Clove Dental, New Delhi.
While introducing the doctor couples, Yojana said that the Doctors are the front line warriors of any society who battle with health demons, just as how the soldiers battle at warzone.
Yojana started the conversation by asking Dr. Tiwari couple about why a doctor generally prefers to marry another doctor.
Dr. Natasha said that the life of doctors is generally tough, so it is preferable to have a partner who is a doctor because a doctor can better understand the challenges faced by another doctor.
Dr. Siddharth, while stating his own example, said, that he worked together with his spouse in medical and dental research centres because of which he had the privilege of spending time with his spouse. This would not have been possible if they were in different professions.
When asked about how doctors take care of their own health, Dr. Neeti said that we are not very regular in exercising, but in terms of diet, we try to eat healthy food, we take good breakfast and the dinner is well planned.
"We walk a lot in working hours so it compensates," Dr. Rakesh added.
Dr. Nitasha said that before the lockdown, we were getting time to do exercises only 1 or 2 times in a week due to our busy schedule. "However, in lockdown, I joined yoga classes."
When asked about the hobbies, Dr. Neeti said that she likes dancing, reading fiction and travelling. "We plan at least 2 vacations in a year and explore new places. Besides that we get to travel through our conferences as well."
Dr. Rakesh said he likes reading especially fiction.
Dr. Siddharth said that he doesn't get time to pursue his hobbies.
Dr. Siddharth, while talking about the Anti Corona Task Force, said, "I'm heading the Anti Corona Task Force as a chief healthcare administrator, I have not had a single holiday since it started."
"Today we have over 70,000 volunteers from Kashmir to Kanyakumari and Nagpur to Agartala."
"Without any assistance from the government, we started tele counselling for Covid patients."
When asked about the situation of Covid in India in comparison to the world, Dr. Gupta said that the recovery rate in our country is very good in comparison to the european countries because of the ancient indian healthcare practices.
While praising the central government, Dr. Gupta said that all the guidelines in lockdown and unlock phase have been effective.
When asked about an alternate career, Dr. Neeti said she loved physics in school, so she would have became a scientist or a physics professor. Dr. Rakesh said he would have become a geologist as you get to visit unexplored places as a Geologist.
Dr. Nitasha said my fav subjects were physics and chemistry and I would have been engineer.
Dr. Siddharth said I would have been teaching english literature if I was not a doctor.