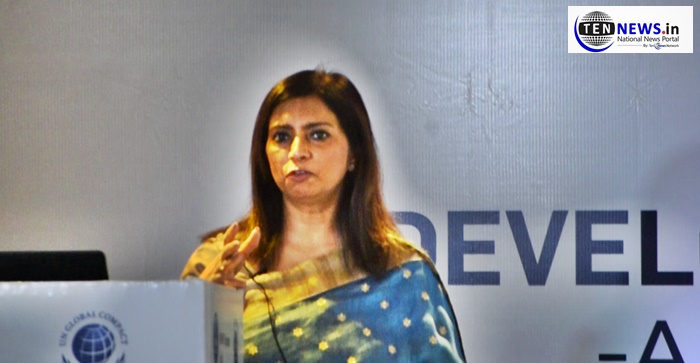 New Delhi : Today in the National Capital, Motivational speaker and VP- Corporate HR, DS Group, Simin Askari shared her views regarding some of the important aspects related to the two days training session organised by UN GCNI titled, "Developing women leadership : A roadmap to success".
Simin Askari shared a presentation regarding Negotiation Skills and Conflict Management. She shared that how difference in mindsets can result as conflicts between people. Along with it, she also focused on how a person with good mindset ( a mindset which holds good listening as the main quality ) will always result in moving forward with good relations and good future.

Simin Askari has mentioned in her LinkedIn profile : "I support the delivery of the vision of the business, creating a shared purpose amongst all stakeholders. Ensuring availability of relevant resources, retention, motivation of this talent, is an essential element of this profile.
Handling diverse businesses has its own challenges and I understand there is no "One size fits all" solution. The role of HR is no longer only transactional, but revolves around relationships. I lead the strategy for workforce planning, budgeting, succession planning and training & development for diverse workforce across businesses. My own international exposure since childhood and extensive travel helped me develop into a person who has a deep respect for diversity, age and gender sensitivity."

Moving further with the training session, Professor R R Sharma shared his views regarding the importance of Emotional Intelligence in the lives of people. Not only women, but men equally adapt this quality so as to move forward with a positive mind in every situation.