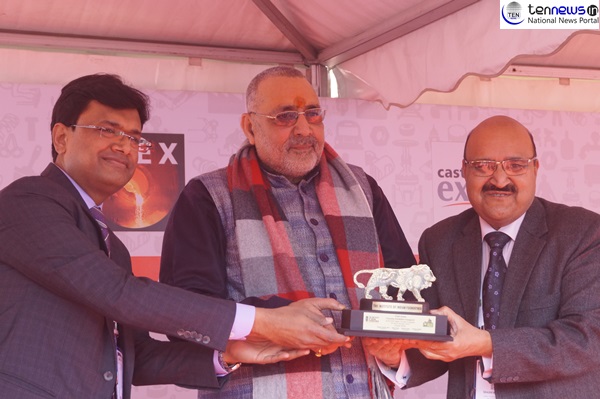 Union minister Giriraj Singh shared his vision over interconnecting Charkha to Gaganyaan at 67th Indian Foundry Congress
By Ten News
Greater Noida (18/1/2018): Three days long 67th Indian Foundrymen Congress, which began today at India Exposition Mart, Greater Noida, which is being attended by 1200 delegates from 15 countries which includes India USA, UK, Germany, Italy, Japan.
Giriraj Singh, Minister of State (Independent Charge) for Micro, Small and Medium Enterprises in the Government of India, was the chief guest for the event. He was welcomed by Shashi Kumar Jain, President – Institute of Indian Foundrymen, by presenting a bouquet and a memento of Make in India as a token of Gratitude. After that, the fair was formally inaugurated by lighting the lamp and cutting the ribbon. Giriraj Singh personally visited the different stalls and seeks details of the products.
Speaking at the event he began his speech with the slogan of Vandematram and while interacting with Ten News, he said, "During the freedom struggle, Gandhi ji handed charkha to women for their empowerment and it has also become a symbol of Swadeshi Movement. But the earlier political parties used charkha to nurture their political benefits and they didn't attach the charkha with new technologies and it kept losing its existence. Now we are replacing old model charkha with carbon fibre, energizing it with solar energy, installation of artificial intelligence and camera. Apart from this our technology centre, Bhubaneswar is sharing their technology and parts that will be installed in upcoming Gaganyaan mission 2022. So we can say that our MSME is connecting charkha to Gaganyaan.
While Shashi Kumar Jain detailed that "association will encourage foundry clusters to jointly set up sand reclamation units in order to recycle and reuse the sand to lessen the dependence on river sand to further check illegal mining and save the environment and check pollution. He said that about 2 million ton sand is being used in UP foundries annually for the production process and told that this move will ensure optimum use of natural resources besides solving the problem of landfilling and waste disposal problems and mainly benefit small and tiny units."