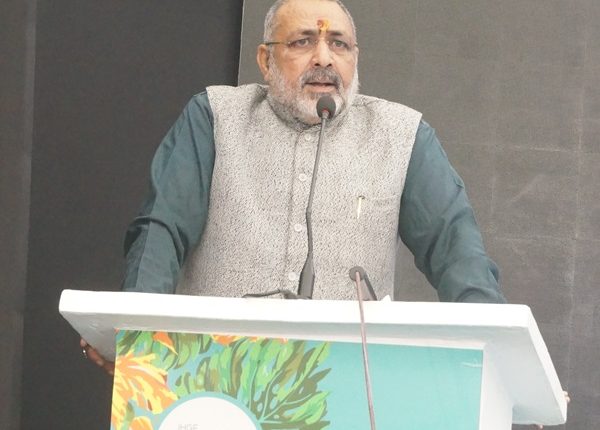 Union Minister of MSME [IC] Giriraj Singh visits INHGF Delhi Fair Spring 2018, Felicitates Guild Certificate to professionals
24/2/2018
GREATER NOIDA – 24th February, 2018 – Giriraj Singh, Union Minister [I/C] gave away the Guild certificates to 12 framers working in Picture Framing Segment on second day of 45th edition of IHGF-Delhi Fair Spring being held at India Expo Centre & Mart, Greater Noida from 23 – 27 February, 2018.
O.P. Prahladka, Chairman – EPCH, Radhey Shyam Ranga, President of the fair, R.K. Passi and Sagar Mehta, Vice Chairmen- EPCH and Rakesh Kumar, Executive Director – EPCH were present on the occasion
While awarding the guild certified framers, MSME Minister appreciated the efforts and vision of Rakesh Kumar and said that he has both emotion and devotion which have strengthened the handicrafts sector.
Giriraj Singh also lauded EPCH's efforts towards creating marketing platform in the form of IHGF-Delhi fair wherein exhibitors from across the country are showcasing their products to the visiting buyers from all over the world. He also acknowledged the role of 70 lakhs artisans who are backbone of the handicrafts sector and are engaged in production of handicrafts and commended EPCH for giving them the opportunity to display their intricate craftsmanship in this show as well.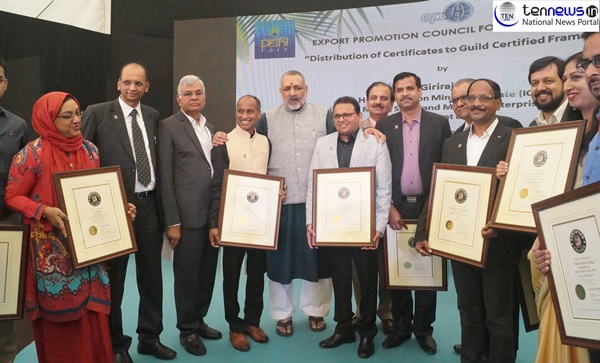 Keeping in view the vision of EPCH, the Hon'ble Minister expected that the exports of handicrafts would cross Rs. 30,000 crores very soon.
The MSME Minister also elaborated that he has introduced technology in spinning and hoped it will create employment of 5 crore people in the MSME sector. All products range in informal sector are under MSME and such it is an employment generative sector.
Rakesh Kumar, Executive Director informed that EPCH in collaboration with M/s Lion India has taken unique initiative to upgrade the Picture Framing Industry in India by conducting l GCF training programme for the Indian Framers in association of Fine Art Trade Guild, London, UK to enable the framers in acquiring higher skills and quality of workmanship and accommodate different levels of framing with the bespoke market to International standards.
The training programme was held from 6 to 12 November, 2017 in Kolkata. 20 participants from all over India, came to Kolkata to participate in the above course and appeared and among them 12 participants have passed the Guild Certified Framers examination successfully. They included Deepak Oulkar from Belgaum, Punit Prahladka from Kolkata, Dipak Dholey from Kolkata, Sanjay Lahoti from Pune, Geovanni Fernandes from Margao, Goa, Liza Mayan from Kannur, Kerala, Aliasgar Kanchwala, Hyderabad, K. Narendra Shenoy from Mangalore, Mia Renny from Cochin, Manisha Bhatcar from Panjim, Goa.
EPCH ED Rakesh Kumar further said that this kind of course is held first time in India and Mohd. Asif from Export Promotion Council for Handicrafts was one of 12 participants who passed the examination successfully and was awarded the Guild Certificate.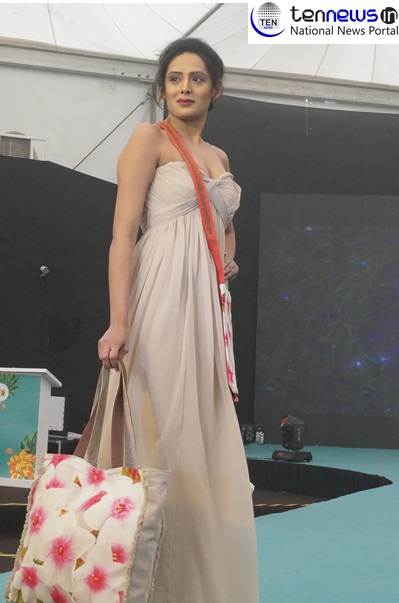 Fashion shows were the highlight of 2nd second day and models displayed fashion jewellery and accessories from Kenway Sartaj Worldwide, Asian Handicrafts, Veva Fashion, Gramin and Vikas Chetna Sansthan and many more.