Union MoS for Textiles inaugurates Mega Handicrafts Fair "IHGF 2023" at India Expo Mart
Greater Noida – 15th March 2023 – The 55th edition of IHGF-DELHI FAIR – SPRING 2023 being held from 15th to 19th March 2023 at India Expo Centre & Mart was inaugurated today by Darshana V Jardosh, Union Minister of State for Textiles & Railways in the august presence of Suresh Kumar Khanna, Minister of Finance & Parliamentary Affairs, Govt. of UP; and Shubhra, Trade Advisor and DC Handicrafts & Handlooms. Also present on the occasion were, Raj K Malhotra, Chairman-EPCH; Vice Chairmen, EPCH – Dileep Baid and Neeraj Khanna; Rakesh Kumar, Director General, EPCH & Chairman, IEML; IHGF Delhi Fair-Spring 2023 Reception Committee's President Avdesh Agarwal and Vice Presidents – Parvinder Singh, Ravindra Nath and Deepak Gupta; Committee of Administration Members, EPCH; and R K Verma, Executive Director, EPCH.

While addressing the gathering, Darshana Jardosh, Union Minister of State for Textiles and Railways, called IHGF Delhi Fair, an excellent medium to promote the craft industry and provides an opportunity for trade to interact, share knowledge and explore business opportunities. She appreciated EPCH's role in providing a platform to a large number of exhibitors, especially small and medium exporters who with their hard work, creativity and enterprise have been able to add to the exports of handicrafts from the remotest regions of India.
Adding further she said that the recently announced PM Vishwakarma Kaushal Samman Yojana (PM VIKAS) which aims to provide financial assistance to the artisans and craftsmen to increase their production, will prove to be a milestone for the traditional artisans and craftsmen and will improve their standard of living.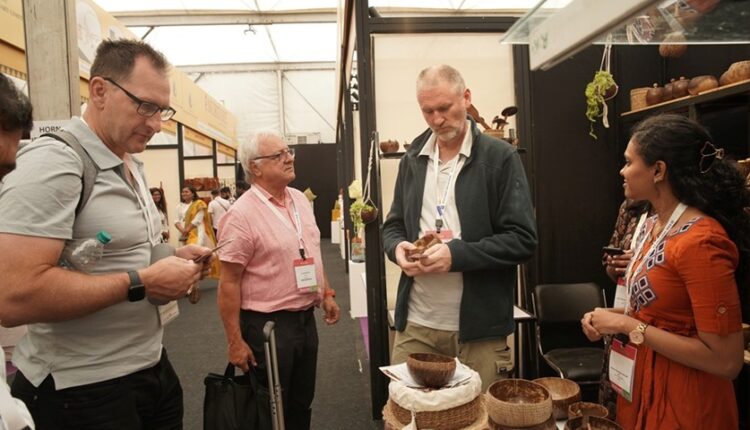 She said that leveraging the G20 Presidency, it is an excellent time to promote global trade and economic cooperation through this Fair. Today, a large number of buyers present here from different parts of the world can help foster collaboration and promote economic growth. The fair also fulfils the theme of G20 'वसुधैव कुटुम्बकम', which means "the world is one family", emphasizes the importance of cooperation and inclusiveness on a global scale.
She stressed on the importance of a viable marketing platform for the artisans and one such initiative being worked upon is the Common Online Portal.
Suresh Kumar Khanna, Minister of Finance & Parliamentary Affairs, Govt. of UP, called this platform, a large, well spread and vital international connect to the Indian handicrafts community, especially for the exporters who contribute significantly to nurture the sector, at the ground level. He took pride in the fair's location in the major hub of Greater Noida, Uttar Pradesh. Noting the high concentration of exhibitors from Uttar Pradesh at the fair, he highlighted the State Govt.'s vision and milestone programs, especially the ODOP (One District One Product) that aims to encourage indigenous and specialized products and crafts in UP that are found nowhere else. He spoke of making Uttar Pradesh a 1 Trillion economy in next five years thus, contributing to the vision of making a 5 Trillion Indian economy.
Raj Kumar Malhotra, Chairman, EPCH, thanked the Minister for her support, vision, guidance and encouragement that have been instrumental in the growth & development of the handicrafts industry in India. Welcoming all to the 55th edition of IHGF Delhi Fair, he said, "the event stands tall as one of the largest and most prestigious trade fairs in the country, a testimony to the entrepreneurial spirit and creativity of our member exporters who have been showcasing their exquisite craftsmanship and unique products to the world for around three decades. Adding further, he thanked the Government for launching the PM Vishwakarma Kaushal Samman Yojana (PM VIKAS).
Avdesh Agarwal, President, Reception Committee, IHGF Delhi Fair Spring 2023 while delivering the vote of thanks, thanked the Ministers for their support and the exporters, overseas buyers, artisans and press & media for their valued patronage. In a move to contribute to conservation, he urged his fellow exporters to plant 10 trees for every buyer that they get during the fair.
The 55th edition of IHGF-Delhi Fair spread across 16 halls and 900 Permanent Showrooms at the India Expo Centre & Mart, Greater Noida Expressway, opened to overseas buyers, buying and sourcing consultants as well as large domestic volume retail buyers to source from 3100 exhibitors for home, lifestyle, fashion, textiles and furniture. On display is a comprehensive selection of 14 product categories including housewares, home furnishing, furniture, gifts and decorative, lamps and lighting, Christmas & festive décor, fashion jewellery & accessories, spa & wellness, carpets and rugs, bathroom accessories, garden accessories, educational toys & games, handmade paper products & stationery and leather bags. Day one of this grand show saw a big draw of overseas buyers from all across the globe along with their representatives from India. Domestic Volume Buyers and online portals also visited the fair to source their requirements.
EPCH is a nodal agency, promoting exports of handicrafts from the Country to various destinations of the world and projecting India's image abroad as a reliable supplier of high quality handicrafts goods & services. The Handicrafts exports during the year 2021-22 was Rs. 33253.00 Crores (US $ 4459.76 Million) and during April-February' 2022-23 is Rs. 28727.91 Crores and USD 3505.84 Million informed by Rakesh Kumar, Director General, EPCH.