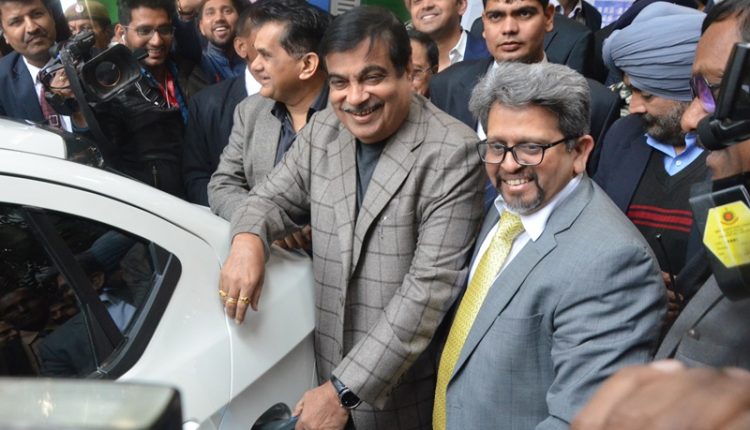 KASHIF HASNAIN (PHOTO/VIDEO BY SAURABH SHRIVASTAVA)
New Delhi: In the upcoming years, the mobility in India would be cheaper and pollution free. Besides battery, Ethanol and Methanol are the best alternative of petroleum products, said Union Transport Minister, Nitin Gadkari while inaugurating Electric Vehicles charging points in Delhi.
In a bid to promote Electric Vehicles (EV) in India, Union Transport Minister Nitin Gadkari and CEO of the NITI Aayog, Amitabh Kant jointly unveiled Electric vehicles charging points at NITI premises on Thursday morning.

While speaking on the occasion, Minister Gadkari said, "Providing charging points for electric vehicles is the biggest problem for us. This is just a beginning. "
He further said, India has been exporting large number of cured oil which needs to be ease off. "The ministry has been working to trim down the exportation of cured oil by developing alternate fuels sources such as ethanol, methanol and battery based vehicles, which is cheaper and pollution free. Soon it will play on the roads."
In addition to that, the minister claimed that the transport ministry has been planning to provide battery charging points at petrol pumps.
Three leading EV charging companies including a Indian have installed their charging points at NITI Aayog premises, ABB India Limited, Exicom and Chargepoint.
In the following event, CEO of the NITI Aayog, Amitabh Kant said that the Aayog is committed to provide all necessary help to boost electric vehicles in India.