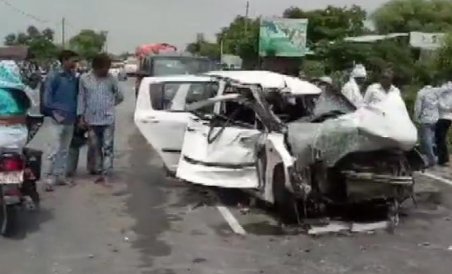 Unnao Rape Victim Accident: Former CBI joint-Director demands investigation in Police role
Saurabh Kumar
Greater Noida (29/07/2019) : A murder case was filed against BJP legislator Kuldeep Sengar after yesterday's accident in Raebareli, in which two women died and a teenager he allegedly raped two years ago, got injured and is in a critical condition.
The teen's mother said the accident was meant to "eliminate" her daughter and that Kuldeep Sengar was plotting against them from jail. One of the two deceased aunts of the girl was a witness in the rape case.
The police had said initial investigations indicate that it was an accident. The girl was not accompanied by the security personnel assigned to her, and the truck that hit the car had its number plates scrubbed with black paint.
Commenting on the whole issue Shanmansen Ex Joint director CBI raised some serious questions pointed major loop holes from police side "the registration plate of the truck which rammed with the victims car was scrubbed. So how the vehicle is allowed to commute on the road, how many police pickets crossed by the vehicles all the details need to be retrieved and investigated."
Prima facie, it appears to be an accident statement like this by DGP is very immature. Police needs to verify whether it is an accident or a pre planned murder. Involvement of police also needed to be investigated in the whole incident.