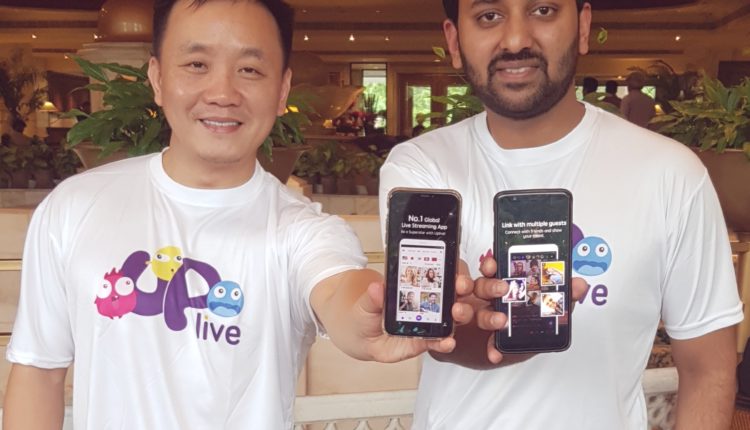 New Delhi: After achieving success in Greater China, Middle East and North Africa (MENA), South-East Asia and the Americas, Uplive has witnessed tremendous growth in India since the beginning of 2018. Uplive, an offering from Asia Innovations Group (AIG), also an innovative leader in the mobile interactive entertainment space, headquartered in Hong Kong with 14 offices worldwide, has become the top mobile application in this segment globally.
Launched in May 2016, Uplive is a live-streaming platform that allows viewers to broadcast and view real-time videos via their smartphones. The platform's unique blockchain protocol will enable users the ability to send virtual gifts to content creators, which can then be exchanged for money. Currently available in over 100 countries and with 500,000+ monthly broadcasters and over 60 million users worldwide, the app currently supports sixteen languages including English, Hindi, Arabic, Chinese, French, Portuguese, Spanish, and Thai.
With an addressable market size similar to China, Uplive has been the fastest growing live streaming app in India for the past couple months, with 100,000+ new Indian users registering Uplive per day. Among Uplive users, India is pegged to become the most significant player in a couple of months, and the AIG group will focus its resource on this critical market in the form of setting up a regional headquarter and an operations center. AIG's offering is wider than Uplive: as a social entertainment platform, AIG is going to roll out in India a series of video-based social apps such as short video platform and game broadcast. The group aims to build a next-gen social platform for the market, and it has a long-term vision with the Uplive ecosystem.
"Great content quality, an interactive audience, and full of passionate streamers, India is a vibrant and fast-growing market for us. That is why we have embarked upon the journey of setting up an office here and treat this as a strategic market for us. India holds a great opportunity as its billion-plus population is becoming highly digitalized and in strong need of social and entertainment content.
There are lots of people who are first-time smartphone users and are actively looking for entertainment options on their phones", said. Ouyang Yun, co-founder and group president, Asia Innovations Group. He further added, "there is a huge opportunity for both streamers and users in the Indian market."
"We want to onboard quality streamers and offer the best content, be it Indian music, talk shows or anything else. Everyone has a story to tell, to share, and we believe there is no better or easier medium to do that than live streaming. The format is inherently interactive, engaging, and accessible. We want to democratize self-expression even further while allowing our content creators to make money", said Ravish Jain, Country Marketing Director, India for Asia Innovations Group.
He further added "Uplive is known for its strong monetization model worldwide that provides its streamers with a portion of revenue that the platform receives from its users in form of gifting. Streamers who have signed contracts with Uplive platform earn around USD 500 per month on an average globally, thereby potentially creating a significant contribution to the local economy and improve employment rate. Anyone with talents have a new opportunity to make a living with this platform "
Uplive firmly believes that it is the most opportune time to enter the Indian market with 4G penetration and data price that is suitable for the Indian masses. It presents a massive employment opportunity for skilled, semi-skilled professionals and even amateurs who can become content creators.
Also, Uplive plans to make "live streaming" a mainstream social media format in India by using its global formula of combining revenue collection with real-time interactive entertainment. Eventually, it aims significant revenues to be generated from India. The sustainable development of Uplive depends on its ability to integrate all kinds of social entertainment features together as well as the improvement of contents.