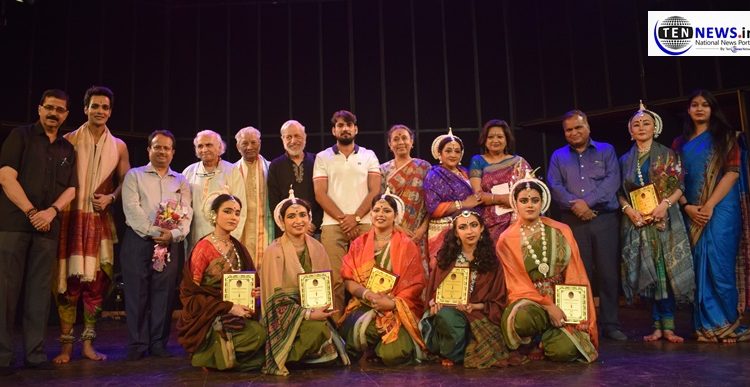 Vaishali Kala Kendra organises Guru Pranam Utsav: Jyoti Srivastava and group performs remembering her Guru
Vishal Malhotra / Rahul Kumar Jha
New Delhi : Vaishali Kala Kendra organised the festival of Odissi dance and music : Guru Pranam Utsav. Remembering the name of Guru Sri Nath Raut, renowned Odissi dancer Jyoti Srivastava who has been working towards promoting Odisha's classical dance form across and outside the country keeping its authenticity intact, performed 'Mangalacharan' . Chief guest at the occasion was Sandeep Marwah, President of Marwah Studios.



Almost three decades ago, when Jyoti was all of four-years-old, when she started tapping her foot to Odissi. Guru Srinath Raut groomed her for 14 years.

Odissi, also referred to as Orissi in older literature, is a major ancient Indian classical dance that originated in the Hindu temples of Odisha – an eastern coastal state of India.

Speaking to Ten News, Jyoti Srivastava said,
"Though I am trained in mohiniattam, Bharatnatyam and even kathakali, Odissi is closest to my heart. I can connect with the ethereal with ease through Odissi music. The credit for my passion for Odissi goes to my guru who was the senior-most disciple of the legendary Guru Debaprasad Das."
After her guru passed away at the young age of 47, the veteran Odissi maestro Durga Charan Ranbir mentored Jyoti.
The senior Odissi dancer has taken many initiatives to promote the state's dance form in her city. Jyoti has been observing the Guru Pranam Utsav classical dance festival in New Delhi to pay tribute to Guru Raut. Eminent dancers and musicians from Odisha are felicitated at the festival. She has also instituted a grand school-level dance competition to create awareness and interest among youngsters.

"When I started learning Odissi, it was tough for us to understand the Odia culture and our gurus had to take a lot of pains to inform us about every minute detail of Odia lifestyle which is very important for Odissi dancers. But today, there are many institutes imparting education in Odissi and students who come to me also know about the Odia traditions, cuisine and festivals," Jyoti said.

Another marvelous performance was of Jhelum Paranjape who has performed in the dance ballets staged by the Rashtra Seva Dal Kalapathak under the direction of noted poet Vasant Bapat and tutelage of Ramesh Purav numerous times.