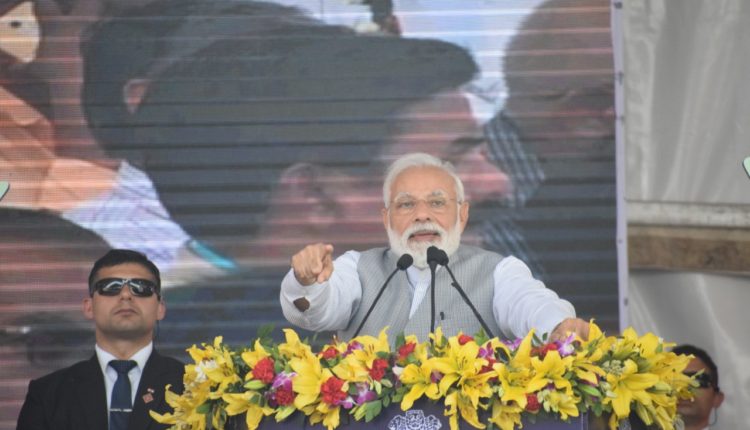 VideoHighlights: PM Modi Rally in Pandit Deendayal Upadhyaya Institute of Archaeology, at Greater Noida
Shaihzad Abid / Jitender Pal
On 9th March 2019, Prime Minister, Narendra Modi inaugurated Pandit Deendayal Upadhyaya Institute of Archaeology, at Greater Noida, Uttar Pradesh.
Chief Minister of Uttar Pradesh and Minister of State (I/c) of Culture & MoS of Environment & Forest Dr Mahesh Sharma also attended the event.
The Prime Minister also unveiled the statue of Pandit Deendayal Upadhyaya installed in the premises of the Institute.
The foundation stone of the Institute Building was laid by the Union Home Minister, Rajnath Singh on 28th October 2016 during the celebrations of 100th Birth Anniversary of Pandit Deendayal Upadhyay.
The Institute of Archaeology (IA) is an academic wing of ASI under the Ministry of Culture. In the Institute, the students are provided with a supportive, enthusiastic and challenging academic atmosphere which enables them to achieve their full potential in the field of Archaeology.
The Institute conducts professional workshops in different fields of archaeology. The foremost aim of this Institute is to provide an opportunity for students to achieve excellence in their passionate fields of archaeology.
The state-of-the-art institute, built at an estimated cost of Rs. 289 crore is spread in over 25 acres. The 3-star ultra-modern green building of the Institute is equipped with all the latest technologies. The Institute comprises of an auditorium with seating capacity of 1000 people, an open-air theatre and an Archaeological Museum.