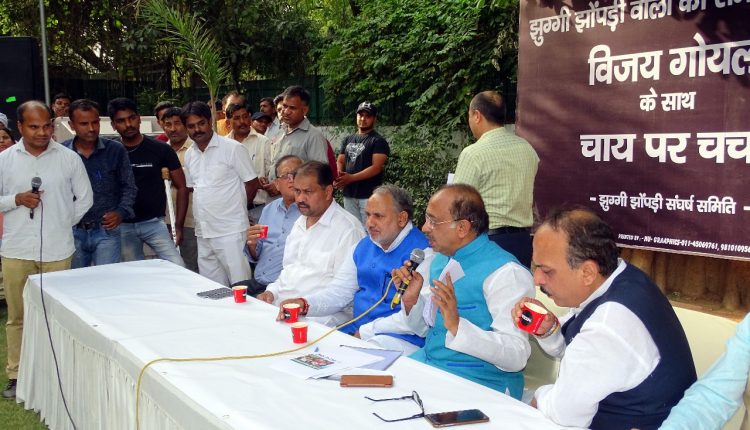 New Delhi: Former Delhi BJP President and Union Minister Vijay Goel today organized a Chai Pe Charcha (Discussion over tea) at his residence with scores of slum dwellers from various Delhi slums to understand their problems and issues that have allegedly been ignored by the Kejriwal led Delhi government. The slum dwellers voiced their opinion on the current conditions and prevailing scenario in their respective slums and how the conditions have transformed from bad to worse in recent times.
During today's Chai Pe Charcha, Goel said, Kejriwal led AAP has failed to provide clean drinking water, sanitation levels in these particular areas have declined causing serious and grave health issues. There is lack of any proper education system for the young ones of these slums and that puts a further question mark on their future.
One of the resident from Chilla area slum near Mayur Vihar phase 3 voiced his concern regarding illegal alcohol being sold in the area that has led to increase in crime rates and many more social issues. Santosh from Lakshmibai Nagar raised the similar issue of alcohol, drugs and gambling in the area along with civic issues like lack of sanitation and almost zero water supply. Many other slum dwellers raised their voice on Kejriwal's lack of interest in resolving their issues.
Speaking at the discussion Goel said,
"Delhi Government is continuously doing injustice with Delhi People. When Kejriwal government was formed they promised so many things. We thought there will be huge development in delhi but they only provided disappointment.
If we talk about slum dwellers their living standard is very poor. Did Delhi government providing education to the slum dwellers? did Kejriwal government solved water crisis in slums? Did Delhi government improved slums status? Today we will discuss about everything."
"I will very soon initiate a "Slum Padyatra" to highlight the problems faced by these slum dwellers and how Kejriwal has failed to live up to the expectations and broken multiple promises made during elections.
Kejriwal led AAP which had promised a number of amenities for the slum dwellers has done nothing other than wasting public money on publicity and fake propaganda to show a picture that is not reflected on-ground," added goel.