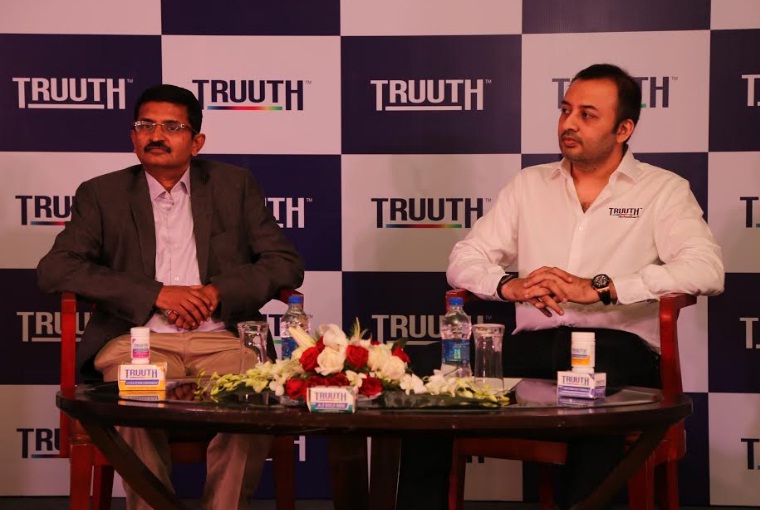 Wellness segment poised for transformation with the launch of "Truuth" nutraceuticals
By Bipin Sharma
Truuth, the first offline-online fast moving health goods (FMHG) brand for dietary supplements was recently launched by the Vital Health Pvt. Ltd. to cater to the nutritional requirements and cover the gaps in today's fast paced stressful life. Promoted by the Pradeep Dadha Group of Companies, that have been a century old pharmaceutical establishment, Truuth is a brand under the aegis of its division, Vitalic Nutrition.
Truuth offers a wide and effective range of health supplements. Its formulations are built on the bedrock of nutritional science, and the range of products includes vitamin and mineral tablets designed for overall health and vitality, for beauty, for seniors, for children, for active and fitness oriented lifestyles, and for a variety of body and organ support functions. Consumers can also avail Truuth's unique probiotics, pro-omega and sports nutrition supplements.
With a whopping 100 crores investment by the company in their new venture, the Truuth products are expected to address wide-spread micronutrient and protein deficiencies which have led to deteriorating the general public health profile. FMHG disruptor has introduced as many as 20+ product ranges to plug the nutritional gaps in the market. The products are presently available in Tamil Nadu, Andhra and Telangana in Phase 1 reach, and would be available in other places in the subsequent phases.
Speaking during the launch event, Raghunandan S, Advisor and Investor, Vitalic Nutrition, shared, "With Truuth, our objective is to be the go-to brand for all dietary supplements. Truuth products can be ordered online, besides being available both at the nearest chemist and pharmacy. Sales revenue of approximately Rs 350 crores is our target in the next four years, and our plan is to realize our mission of expansion and becoming the market's largest and most valuable nutritional brand. India has one of the highest per capita rates for diabetes, cardiac disease, cancer and obesity cases in the world. Many of these diseases, and the conditions that worsen these diseases, can often be traced back to the lack of essential micronutrients in people's daily diets. With our cost-effective and extensive product variety, we aim to make it easy and affordable for consumers to make daily supplementation a relevant 'preventive healthcare technique' and a great new habit. Surveys have shown that in India, nearly 75% of the people show alarming levels of vitamin deficiency, while 80% are considered 'clinically protein deficient'. Poor eating habits, stressful lifestyle, harmful dietary behavior, and depleting nutritive values in foods have been the cause of nutritional deficiency. The revolutionary nutrition technology of the brand allows consumers to acquire a body-cellular system that is better prepared to face the challenges of modern life, for just a few rupees a day. 'Truuth' aims to transform wellness in India by leveraging the increasing prevalence of online retail and the rapid growth of the general retail segment."
Pradeep Dadha, Founder & CEO, Vitalic Health Private Limited, said, "Given the myriads of nutritional supplements available in the market, it is a challenge for consumers to select the best and the most effective. 'Truuth' is the Indian brand of vitamin and mineral supplements that you can rely upon for safety, purity and efficacy. It is committed to increasing general consciousness regarding health, and driving Indian consumers to focus on preventive care. Our USP is that we are driven by revolutionary nutrition technology. The distinction can be gauged in mere 30 days on trying 'Truuth'."
With the official launching of 'Truuth' in the market, the general public awareness towards adhering to preventive healthcare ways seems all set to increase.